WHICH POOL SURFACES DO ROBOTIC POOL CLEANERS WORK ON?
Pool cleaners are specifically engineered to cater to different types of pool surfaces. Robotic Pool cleaners are more versatile and can generally work on a variety of pool surfaces. Make sure any robotic cleaners you are considering are compatible with your pool flooring if it is composed of concrete, tiles, pebble, plaster or fiberglass.
TYPE OF POOL SURFACE
Concrete Pools: Concrete pools continue to be a popular choice for swimming pool owners due to their durability and customizability. Like any type of pool, they need regular cleaning and maintenance to keep pool water clean and ready for swim. Robotic pool cleaners are highly effective on concrete or gunite pool surfaces. Concrete pools can develop algae and other deposits over time. However robotic pool cleaners can scrub and clean these surfaces thoroughly, removing dirt, algae, and debris. It is recommended to clean the filter basket of the robotic pool cleaner after every cleaning cycle.
Fiberglass Pools: Fiberglass pools have smooth surfaces that are well-suited for robotic pool cleaners. Robotic pool cleaners can clean fiberglass pools effectively, leaving them spotless. Fibreglass pools are known for their low maintenance. However, regular cleaning and maintenance are still necessary to keep your pool water crystal clean and in good condition. With Robotic Pool Cleaners, you can schedule the cleaning cycle at your convenience and thus help to prevent staining the fiberglass surface.
Tile Pools: Tile pools are beautiful, and feature tiles as the interior finish and provide a smooth and easy-to-clean surface. Like any other pool type, Tile pools also need orderly cleaning to stay in pristine condition. Tile pool surfaces can assemble algae, calcium deposits, and other stains over time. Some robotic pool cleaners are equipped with brushes or scrubbing capabilities that can clean tile surfaces. They can remove algae and grime from pool tiles.
Pebble Tec or Pebble Finish Pools: With a textured surface composed of small and smooth pebbles, Pebble Finish pools are very popular among pool owners for their durability and aesthetic appeal. Robotic cleaners can handle pebble finishes and textured surfaces, though they may require adjustments in settings to ensure proper cleaning without damaging the surface. Proper cleaning of Pebble Tec pool with Robotic pool cleaners will help keep it looking beautiful and ensure that the water remains safe and enjoyable for swimming.
Plaster Pools: Plaster is a common pool surface known for its smooth and classic appearance, and robotic pool cleaners can clean it efficiently. They can remove algae and dirt while being gentle on the plaster. Setting up your convenient pool cleaning cycle with robotic pool cleaners is essential to preserve the plaster's appearance and the overall condition of the pool.


It's important to note that while robotic pool cleaners are versatile and suitable for different pool surfaces, the specific model and features of the cleaner may impact its performance on certain surfaces. Some robotic cleaners have brushes or scrubbing mechanisms specifically designed for particular surfaces, so it's essential to choose a model that matches your pool's surface type for optimal cleaning results.
Additionally, it's important to regularly maintain and clean the cleaner itself to ensure it operates at peak efficiency and doesn't transfer debris from one pool to another. Always follow the manufacturer's instructions for using and maintaining your specific robotic pool cleaner.
Fortunately, Madimack pool robots are capable of satisfying all of these requirements. with flying colors.
Enviro Friendly: Madimack Robotic Pool Cleaners are among the best in Australia
In choosing a robotic pool cleaner, take your time, pay attention to every detail, and you'll end up with a cleaner that works well based on your needs. Overall, GT Freedom - cordless robotic pool cleaner and GT 560 - corded robotic pool cleaner, are a great choice for just about any pool style. GT560 - corded robotic pool cleaner by Madimack has been the Gold Winner at SPASA 2023 and GT Freedom - cordless robotic pool cleaner by Madimack was awarded at SPASA 2023 for Highly Commended Innovative Product.
Madimack's range of robotic pool cleaners have a number of advantages for pool owners. They are effective, reducing costs and time while enhancing pool health. They are a practical investment because they require little maintenance and are simple to operate. A robotic pool cleaner is needed if you own a pool because it will make your life simpler and keep your pool cleaner.
We are hoping this will give you more information to consider when finding the best robotic pool cleaner you will ever have.
Find out more on Madimack's full range of energy-efficient products at www.madimack.com/au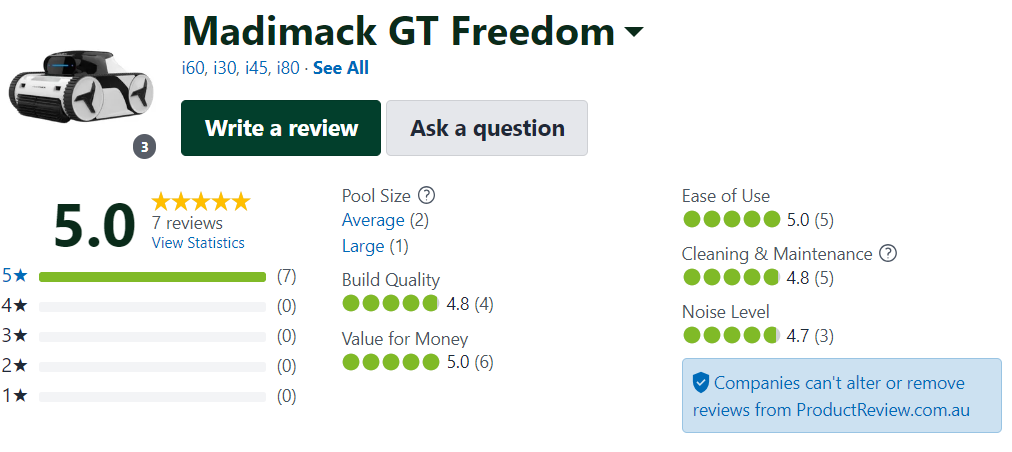 Please take a few minutes to complete this form, let us know more about your robotic pool cleaner needs, and our expert will be in touch!