Saving Lives With Surf Life Saving
Safety is a Madimack priority so we have partnered with Surf Life Saving to provide Free life saving CPR courses & shine a light on pool safety.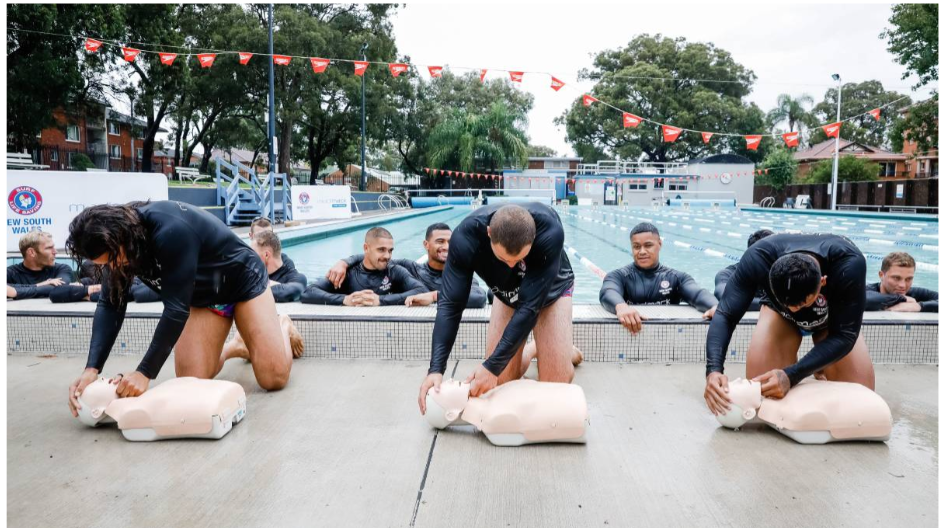 An Initiative To Save Lives
In an effort to gauge public awareness of sudden cardiac arrests and the importance of bystander intervention in saving lives, Madimack has partnered with the Surf Life Saving community, Australia.
Did You Know? According to the NSW Govt., nearly 33,000 sudden cardiac arrests happen annually, of which 80% of the cases occur at home. Many of these victims show no prior signs or symptoms of a heart attack, such as a history of heart diseases or other risk factors. In other words, a cardiac arrest can happen at home to someone with no prior history.
Many people consider cardiac arrests as a fairly rare occurrence. But the truth is, globally cardiac arrests take more lives than all cases of colorectal cancer, great cancer,, HIV, fire arms, house fires, auto accidents, prostate cancer, pneumonia and influenza combined!
With the hope that our initiative will help educate the public about bystander CPR training and performance we are offering Free Living Room Lifesaver Course and a Free Resuscitation chart.
Free Living Room Lifesaver Course
Receive a free "Living room life saver" course for you and your family with each purchase of a Madimack product. This course is divided in 2 parts, online learning and virtual classes through which you will learn key aspects of CPR training.
Online Learning (25 min)
For the very first time, we've made our surf lifesavers training resource available to the community.
What you will learn
Key principles of providing basic emergency care.
Primary assessment and CPR on adults.
Use of an Automated External Defibrillator (AED)



Free Virtual Classroom
(60 min)
An engaging virtual classroom learning experience facilitated by one of our experienced trainers.
What we will cover
Latest guidelines on the impact of COVID-19 on performing CPR, including the use of pocket masks.
Techniques to ensure that CPR is effective on both adults and infants.
Managing complications during CPR and managing victims after CPR.
Free Resuscitation Chart
Every Australian can help save a life. Put up these charts near your backyard pools to act safely in an emergency. These CPR Resuscitation Chart are designed for Australian Swimming Pools and Spa, as required by council regulations.
Clear and precise design, easy to read and understand.
Latest update, compliant & approved to required Australian Standards and Regulations
Complies with Australian Resuscitation council guidelines
Durable, UV resistant, quality PVC material
Large Size (593mm x 450mm)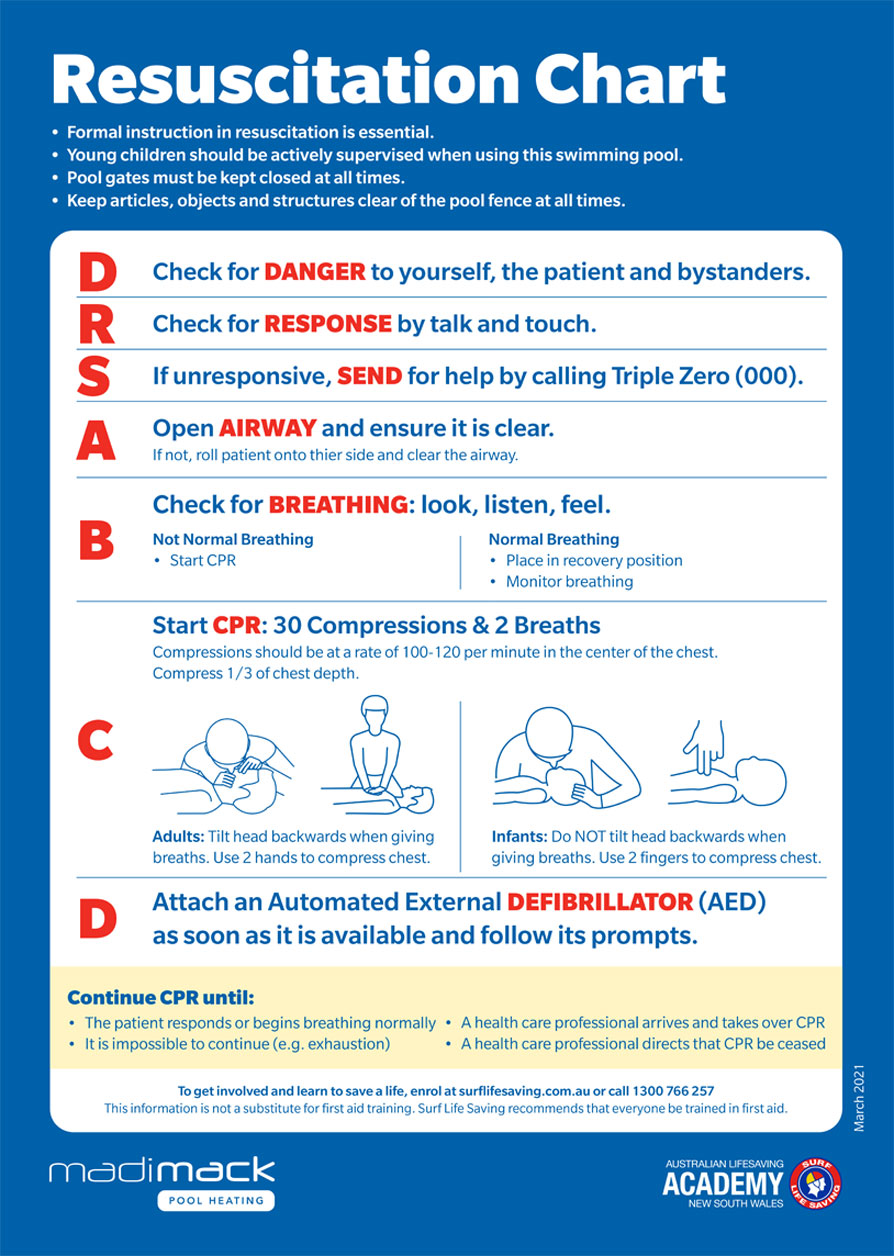 What Is Surf Life Saving?
Surf Life Saving Australia represents the largest volunteer movement of its kind in the world with 173,865 members and 314 affiliated Surf Life Saving clubs. Surf Life Saving is a unique not-for-profit community cause which has saved over 660,000 people till date.
Why Is Learning CPR Important?
Over 33,000 people experience an out of hospital cardiac arrest in Australia every year. Less than 9% will survive.
80% of cardiac arrests occur at home and 20% in a public place. If no one is trained. Survival chances are zero.