INVERTER PLUS
Plug & Play with Madimack's Latest Energy Saver
Pool pumps account for approximately 30% of your home's total electricity bill. Madimack's Inverter Plus simply and instantly upgrades your single speed pump to a variable speed pumps, producing up to 80%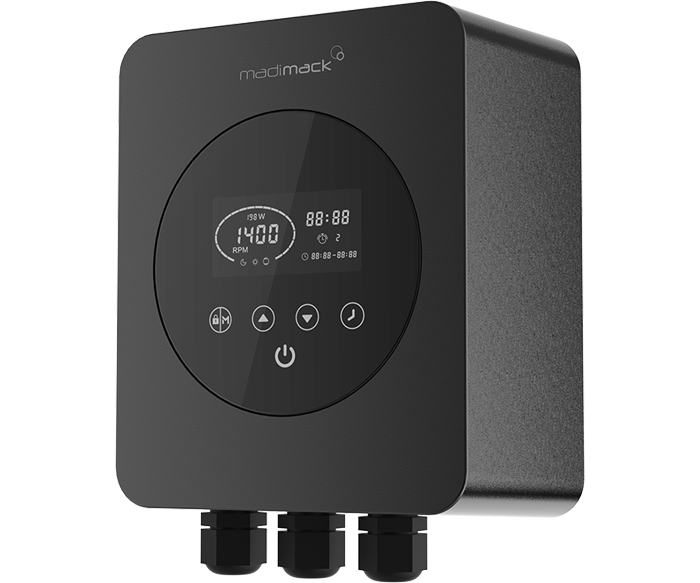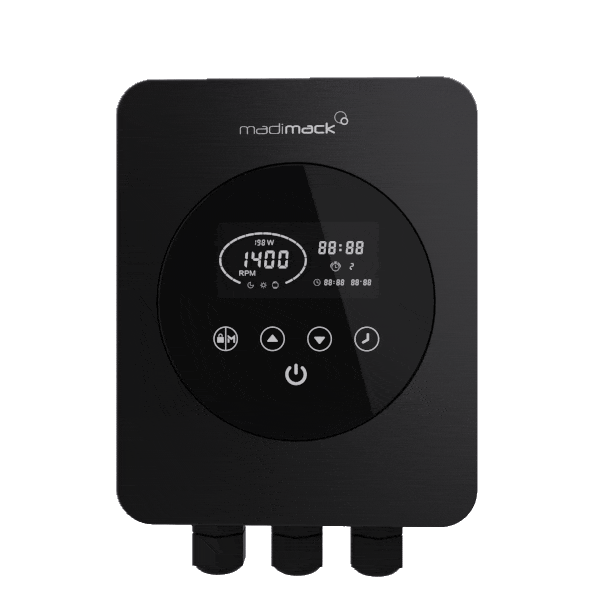 Enjoy all the benefits of a variable speed pool pump
Madimack's Inverter Plus converts a single speed pool pump to variable speed pool pump. You save on running costs, extend the life of your pool pump and reduce noise levels significantly
calculate projected savings
Energy Savings - Greener and cost effective
A typical pool pump runs at single speed consuming about 1kW an hour costing 30-40c an hour depending on what state you are in and $800 a year – or more – for larger pools. This inverter technology can reduce power input from 1kW an hour at full speed to just 110W at 1200 RPM – equal to a lightbulb – just 4 cents an hour.
Quieter Operation and Simple Installation
Up to 20 times quieter than a standard single speed pump. Plug and play installation, no electrician required or additional hardware needed.
Intuitive Touch Screen Control
On display, real time energy savings displayed
ROI within 1 year
Save more than 80% on your pool pump energy cost annually, you will pay for your Inverter Plus in less than a year
| Model | INVPLUS1100 | INVPLUS2200 |
| --- | --- | --- |
| Input Power | 1 Phase AC | 1 Phase AC |
| Input Voltage | 220-240V | 220-240V |
| Input Frequency | 50Hz | 50Hz |
| Output Power | Max 1.1KW | Max 2.2KW |
| Output Voltage | 1ph, 0-240V | 1ph, 0-240V |
| Pump Type | Single Phase | Single Phase |
| Max. Current | Max 6A | Max 12A |
| Speed Range | 1200-2900rpm | 1200-2900rpm |
| Cooling | Ventilation | Ventilation/Fan |
| Cooling | Ventilation | Ventilation/Fan |
| Net Dimension (L*H*D) | 187*110**155mm | 187*110**155mm |
| Gross (Net Weight) | 3.0/2.7Kg | 3.0/2.7Kg |
*ALL PRODUCT, PRODUCT SPECIFICATIONS AND DATA ARE SUBJECT TO CHANGE WITHOUT NOTICE TO IMPROVE RELIABILITY, FUNCTION OR DESIGN OR OTHERWISE PLEASE SEE DATA PLATE ON PRODUCT FOR SPECIFIC SPECIFICATIONS.
*Unless purchased through a Certified Madimack Online Dealer, product warranties revert to statutory 12 month warranty. Refer to Madimack website for list of Certified Online Dealers in order to secure expert service & support of Madimack products.
Are You An Aquatic Centre Owner?
Under a government initiative to Optimise aquatic centres energy use, Madimack is providing free expertise and resources for commercial businesses looking to shift to sustainable energy solutions for their pools.
What will you get out of this?
We will install our Single Phase VFD to your pool pump for free for up to 3 months. Enjoy all the benefits of a Variable pool heat pump without having to replace your single phase pool pump. And, don't worry, From installation to a FREE energy audit, we will do it all for you - No commitment, No charges!
I WANT A FREE TRIAL

Installer/Dealer Finder
Find our installation specialists near your area who have undergone extensive training to achieve platinum level qualification.
Find me nearest installer

Warranty
Check the warranty to see when it begins and when it expires, as well as any conditions that may void coverage.
Learn more
Review Madimack's suite of advanced products,
built to enhance your lifestyle
Contact Us
Have any doubt or need more resources? Fill out our contact form and a member of our dealer support team will reach out to you shortly!