HOW TO CHOOSE A ROBOTIC POOL CLEANER?
ULTIMATE USER GUIDE FOR CHOOSING A SMART AND EFFICIENT ROBOTIC POOL CLEANER.
Having a pool in your backyard will definitely make you the talk of the town, however, pool ownership does not end with swimwear and deck-side pool parties.
Cleaning your pool on a regular basis is crucial for maintaining its safety and health. A few of the pollutants that might enter your swimming pools are dirt, debris, and germs, and these contaminants can cause a variety of health problems, including eye infections, respiratory issues, and skin irritation, something I'm certain no one wants to have.
The idea of properly maintaining a pool can be intimidating if all you want to do is jump into the water. However, keeping your pool clean is simple; with a "robotic pool cleaner" at hand, you can keep your pool spotless in no time.
WHAT IS A ROBOTIC POOL CLEANER?
"Robotic Pool Cleaner" is a smart and autonomous small-wheeled robot that independently cleans a pool's surface. They consist of a small electric motor and a debris collector. The machine can climb the walls and remove dirt and debris thanks to the motor's suction. The majority of robotic cleaners also employ brushes to remove tough dirt and algae particles. The dirt that the robot collects is kept in a separate catchment basin and is collected and discharged once it is full. Modern robotic pool cleaners may be operated remotely from a smartphone and are WI-FI-connected, allowing portability.
By regularly employing a robot cleaner, you can keep your pool clean and ensure that the water is always crystal-clear and filtered. As a result, you will need to perform less maintenance and cleaning to remove algae buildup, which reduces energy expenses and increases the lifespan of your pool's filtering system.
Fortunately, Madimack pool robots are capable of satisfying all of these requirements. with flying colors.
INTRODUCING MADIMACK'S GT Freedom - Cordless Robotic Pool Cleaner
Madimack's GT Freedom robotic pool cleaner is renowned for its exceptional cleaning capability with an impressive cleaning cycle of up to 8 hours, equivalent to one month of cleaning.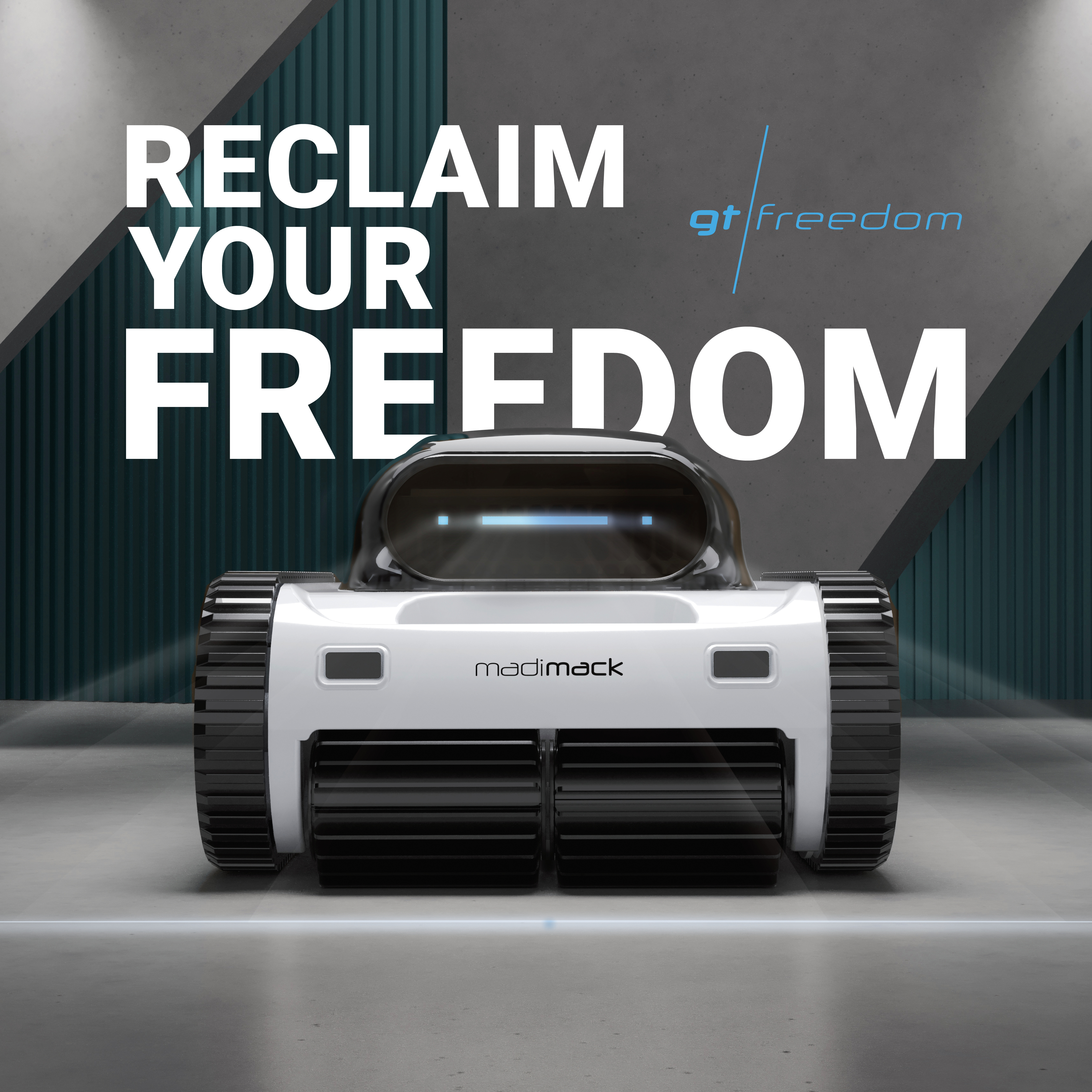 GT Freedom, the cordless robotic pool cleaner from the house of Madimack has emerged as the game-changer, providing numerous benefits to pool owners.
Madimack's GT Freedom comes with a battery power of up to 8 hours with a single charge for up to a 1-month cleaning cycle. Once the robot cleaner is fully charged, the robotic pool cleaner will clean the pool automatically to collect the debris and leaves.

GT Freedom comes with a warranty of three years. Cleaning the pool with a cordless robotic pool cleaner will save you both time and money.

Designed and engineered with DC brushless motor coupled with InverMAC enhanced inverter technology, 'GT Freedom' comes with an advanced Lithium-Ion battery and the flexibility to set and manage the cleaning cycle.
MADIMACK'S GT 560 - Corded Robotic Pool Cleaner
The Madimack GT560 Pool Robot will leave your swimming pool cleaner and your energy bills lower thanks to its strong and economical operation, cutting-edge inverter technology, massive 560 liter/min filtration capacity, and complete management via the Madimack APP.
Engineered to deliver a complete pool cleaning experience. GT560 picks up more debris and has a higher filter/ water turnover rate than any other Robotic Pool Cleaner on the market.
The GT560 Super Climbing Action combines advanced hardware and software to ensure efficient and effective floor, wall, and edge-of-pool cleaning.
Suitable for all pool shapes and surfaces, with Anti-tangling technology, dual active brushes for superior scrubbing performance, intelligent path planning, and Smart features.
The Madimack GT560 includes all the characteristics that make this robotic cleaner a top choice for most pool owners, earning high marks for its effectiveness, programmability, and convenience of use.
ESSENTIAL FACTORS TO CONSIDER WHILE CHOOSING THE RIGHT ROBOTIC POOL CLEANER
TYPE OF POOL SURFACE
Make sure any robotic cleaners you are considering are compatible with your pool flooring if it is composed of tiles, vinyl, or fiberglass.
FILTER

Make sure the robot's filter is simple to replace and that extra filters can be bought from the supplier. Decide on a robotic pool cleaner that is low maintenance and with filters that have a small micron value for clearer water. The smaller the micron value, the better!
REMOTE CONTROL AND CONNECTIVITY
Use your phone's convenience to handle pool maintenance while keeping an eye on the cleaning procedure. Just think of having access to and control over your pool cleaner from anywhere at any time!
For example, you can now take advantage of these incredible features right at your fingertips with the Pool Robot App available for Madimack's GT Freedom and GT 560, which is readily downloadable from the iOS App Store or Google Play Store.
CLEANING CYCLES
Different robotic cleaners have different numbers of cleaning cycles available. Some have only one cycle, while others have more. The robotic cleaners' default settings mostly control how long they will clean the pool before they turn off.
WARRANTY
Your robotic pool cleaner will typically have a warranty of two to three years. This means that the manufacturer will take care of you if there are any problems with your robotic pool cleaner. They'll make sure you don't lose anything by either fixing it or replacing the cleaner.
A strong warranty and after-sales support can give you peace of mind, especially if you are investing in something that is quite pricey.
If you're considering whether to go corded or cordless for your pool robot, you're probably wondering which is better.
With that being said, let's differentiate the two.
CORDED ROBOTIC POOL CLEANER
A pool robot that has a cord connected to an electrical outlet. Although a corded pool robot typically has more power than a cordless one, the limited pool reach can make it a little more difficult to use. It's important that you have more than enough pool robot cord based on your pool size, and also take note of the possible tangling of the cord while using it.
CORDLESS ROBOTIC POOL CLEANER
A pool robot that is cordless and powered by a rechargeable battery. Despite the fact that they might not be as powerful as corded models, you could be more inclined to frequently use this for your pool because of their convenience.
CONCLUSION
Robotic pool cleaners have a number of advantages for pool owners. They are effective, reducing costs and time while enhancing pool health. They are a practical investment because they require little maintenance and are simple to operate. A robotic pool cleaner is a need if you own a pool because it will make your life simpler and keep your pool cleaner.
In choosing a robotic pool cleaner, take your time, pay attention to every detail, and you'll end up with a cleaner that works well based on your needs. Overall, GT Freedom - cordless robotic pool cleaner and GT 560 - corded robotic pool cleaner, are a great choice for just about any pool style.
We are hoping this will give you more information to consider when finding the best robotic pool cleaner you will ever have.
Find out more on Madimack's full range of energy-efficient products at www.madimack.com/au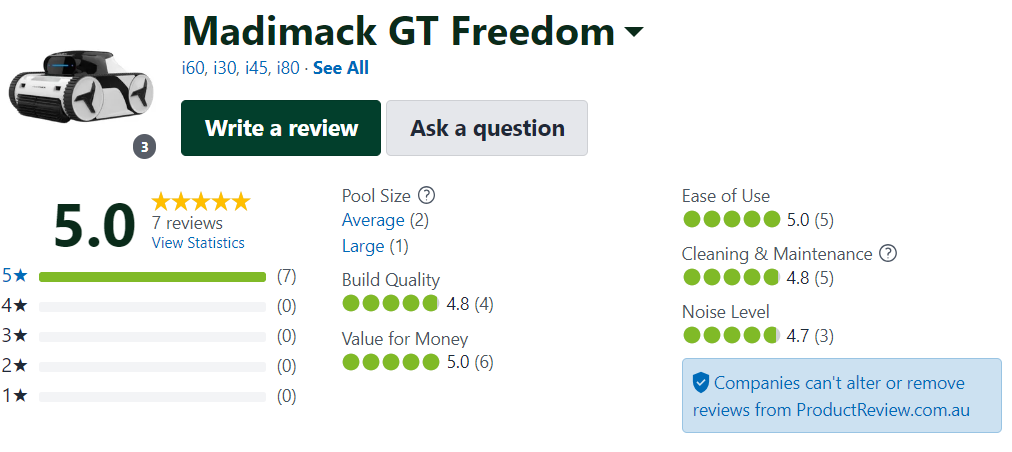 Please take a few minutes to complete this form, let us know more about your robotic pool cleaner needs, and our expert will be in touch!