Cordless Robotic
Pool Cleaner
Untangle yourself with Madimack's GT Freedom and cordless cleaning. Intelligent navigation, APP control, premium lithium-ion battery and advanced InverMAC technology, brings an upgraded cleaning experience for you and your pool. Sit back and relax while Madimack GT Freedom gets to work.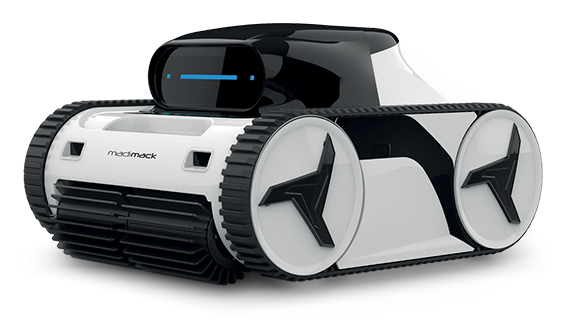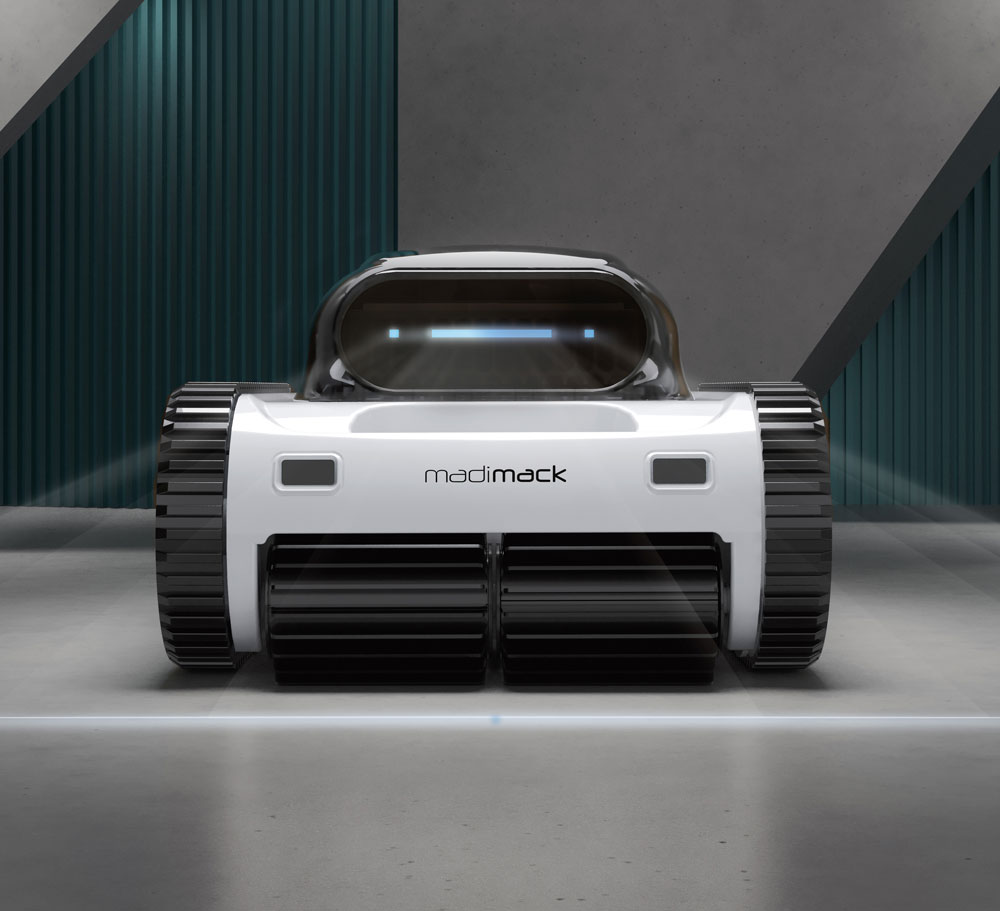 Welcome to a new era of technology
Madimack's range of products is designed to revolutionise the way you experience the world. With a steadfast focus on sustainability, innovation and enhanced user-features, we are proud to offer cutting-edge solutions that exceed your expectations.
At Madimack, we believe in a future where technology coexists harmoniously with the environment. That's why sustainability is at the core of everything we do. Our products are meticulously crafted to minimise their ecological footprint.
We are thrilled you chose Madimack to partner with. Together we will shape a more sustainable future.
Advanced technology
8 Hours of Power

Madimack GT Freedom's DC brushless motor coupled with InverMAC enhanced inverter technology

Advanced Lithium-Ion Battery

Advanced battery technology for incredible performance

Active Panel Control

Flexibility to set and manage run times, cycle times and operational display on the unit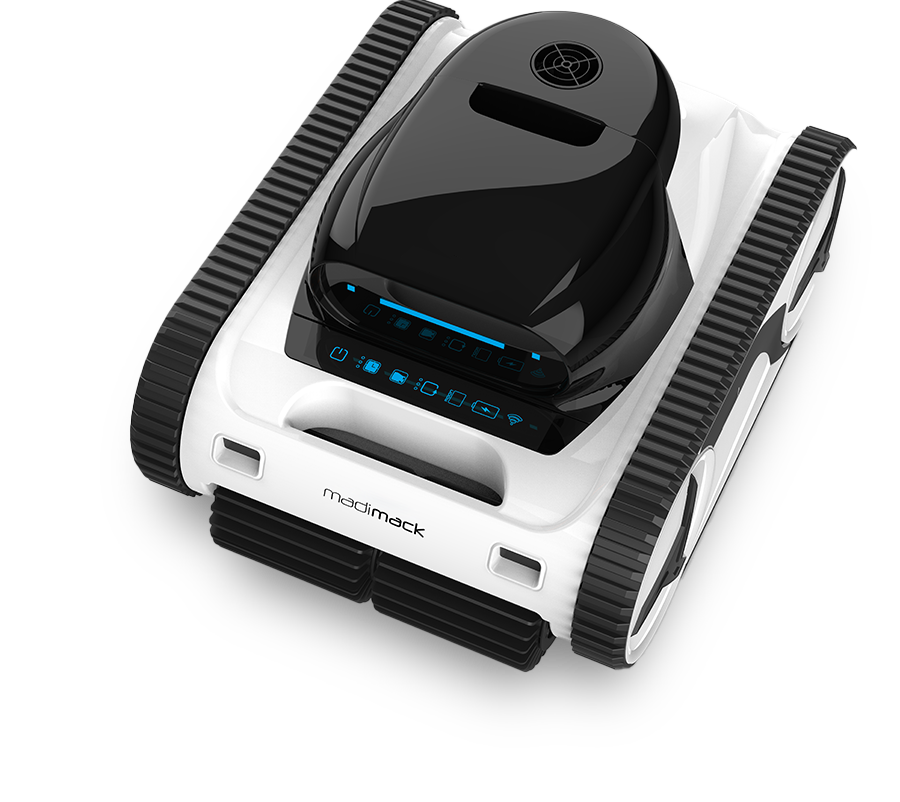 Madimack's enhanced inverter technology, InverMAC, is engineered to support inverter motor operation. The inclusion of product specific proprietary technology allows for precise control of motor speed and energy usage across our range. InverMAC technology supports Madimack's overall position of unrivalled innovation, sustainability and performance. By incorporating inverter motor technology in creative and unique ways, Madimack is leading the way in the development of energy-efficient products.
Intelligent navigation double coverage efficiency
Engineered Infrared Guidance System

Delivering intelligent navigation in relation to your pool's environment

Dual Drive Navigation

Increased power and advanced mobility to overcome obstacles
Cordless robotic Pool Cleaner Selection Tool
Madimack has a pool robot for any aquatic set up. Selecting the correct cordless pool robot will optimise your cleaning solution.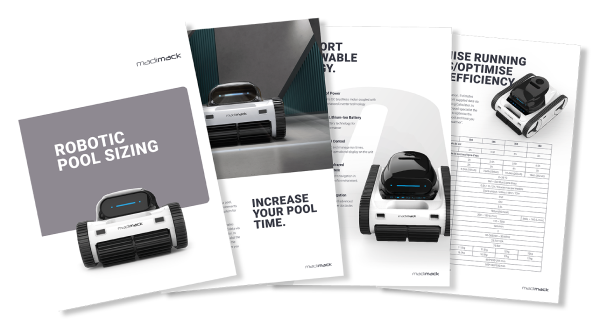 Model
i30
i45
i60
i80
PERFORMANCE CONDITION: Floor mode
Endurance time*
3h
4.5h
6h
8h
PERFORMANCE CONDITION*: Floor/wall/waterline mode
Endurance time
2h
2.5h
3.5h
4.5h
Charging time
2h
3h
4h
5h
Battery capacity
5.2Ah (131wh)
7.8Ah (196wh)
10.4Ah (262wh)
14Ah (352wh)
Optimum pool temperature
0~35 °C
Cleaning mode
Floor – Floor/Wall/Waterline
Cleaning duration options
0.5h / 1h / 2h / Max run per model
Cycle setting
Once cycle / 24hrs / 48hr / 72hr
3D S Path with InverMac
YES
App application
YES
Filter capacity
3.2L
Filtration accuracy
180μm(80mesh)
Pump flow rate
300 – 150 (L/min)
360L – 160 (L/min)
Running power
110 – 30W
Moving speed
12m/min
Motor number
3
Charger input
90-265VAC ~ 50/60Hz
Running voltage / current
25.2V/1.2A
Charger power
72.5W
Set & Forget: weekly cleaning***
1 week
2 week
3 week
4 week
Robot NW
11.5kg
11.5kg
12kg
12kg
Robot GW Shipping
16.5kg
16.5kg
17kg
17kg
Robot dimension (L*W*H)
495*395*265 mm
Robot packaging dimension (L*W*H)
580*448*330 mm
RRP
Madimack pool heat pump price list
*Figures based on 2 hours clearning on floor-mode.
**Statutory 12months warranty applies if purchased online through a non-Madimack Certified Online Dealer.
***Based on 3x30min clearning cycles per week.
*ALL PRODUCT, PRODUCT SPECIFICATIONS AND DATA ARE SUBJECT TO CHANGE WITHOUT NOTICE TO IMPROVE RELIABILITY, FUNCTION OR DESIGN OR OTHERWISE PLEASE SEE DATA PLATE ON PRODUCT FOR SPECIFIC SPECIFICATIONS.
*Unless purchased through a Certified Madimack Online Dealer, product warranties revert to statutory 12 month warranty. Refer to Madimack website for list of Certified Online Dealers in order to secure expert service & support of Madimack products.
Review Madimack's suite of advanced products,
built to enhance your lifestyle
Subscribe to receive Madimack's updates