InverECO RANGE
Quiet, long-lasting simple to operate. Madimack's InverECO delivers a perfect pool heating solution for the energy conscious pool owner. This pool heater is fitted with all the necessities required to heat backyard pools.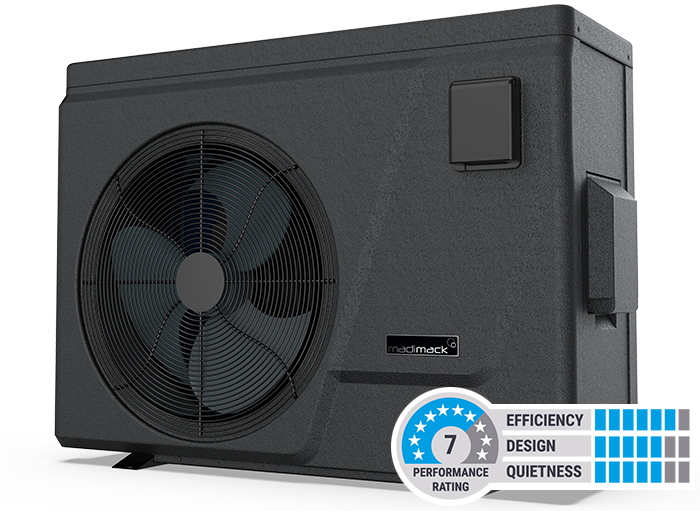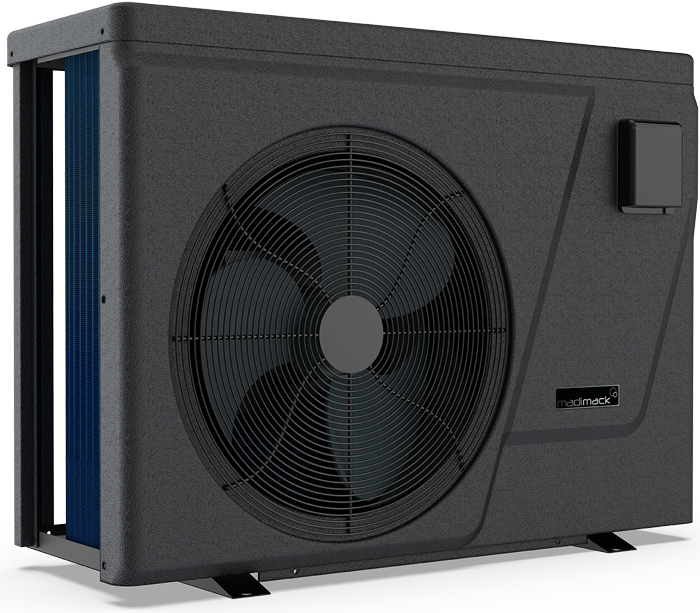 Built with efficiency and simplicity in mind the quiet, long-lasting and easy to use Eco is perfect for energy-conscious minds. With low energy and night time mode, it means efficiency can be increased by up to 20%, and with WiFi as standard, you can change your pool temperature and timers from wherever you are. State of the art anti-corrosion ABS casing means you can be sure your pool stays warm season after season no matter where you live. This electric pool heat pump series is ideal for recreational pool & spa owners.
Calculate your heater size
Engineered design & quality
Designed and Engineered for Australian conditions
Market leader in heat pump technology
high quality componentry and heat exchanger for any chemical balance
Small footprint and corrosion resistant casing for high salt areas
Active defrost function to assist operations in cold climates
Operates in cold climates down to minus 5°C
Powered by InverMAC Technology
Energy efficient operation saves up to 66% compared to other forms of pool heating
Renewable energy compatible
High efficiency inverter technology
Madimack's enhanced inverter technology, InverMAC, is engineered to support inverter motor operation. The inclusion of product specific proprietary technology allows for precise control of motor speed and energy usage across our range. InverMAC technology supports Madimack's overall position of unrivalled innovation, sustainability and performance. By incorporating inverter motor technology in creative and unique ways, Madimack is leading the way in the development of energy-efficient products.
Receive an instant, tailored, heating analysis for your pool set up, by completing this form
Model
EC090
EC0130
ECO160
ECO200
ECO240
PERFORMANCE CONDITION: Air 27°C/ Water 27°C/ Humid. 80%
Heating capacity (kW)
9.0
13.0
16.0
20.2
24.2
COP Range
10.5~6.2
10.8~6.3
10.7~6.2
10.9~6.3
10.8~6.3
PERFORMANCE CONDITION: Air 15°C/ Water 26°C/ Humid. 70%
Heating capacity (kW)
6.5
9
11
14
16
COP Range
6.5~4.2
6.2~4.5
6.6~4.3
6.4~4.3
6.6~4.5
TECHNICAL SPECIFICATIONS
Operating air temperature
-0°C~43°C
Compressor
Full Stepless DC Compressor
Casing
ABS Anti Corrosion Case
Heat exchanger
Twisted Titanium Heat Exchanger
Power supply
230V/1Ph/50Hz
Electrical connection
10A plug
15A plug
Hardwired
Hardwired
Hardwired
Rated input power (kW)
0.28~1.55
0.41~2.01
0.50~2.56
0.60~3.26
0.72~3.81
Rated input current (A)
1.21~6.73
1.76~8.70
2.17~11.12
2.61~14.16
3.13~16.56
Maximum input current (A)
8
12.5
17
19.2
20
Sound level at 1m dB(A)
41.6~53.5
43.9~54.0
46.2~57.3
46.3~58.1
46.9~58.7
Sound level at 10m dB(A)
21.6~33.5
23.9~34.0
26.2~37.3
26.3~38.1
26.9~38.7
Advised water flow (L/Min) ±20%
50
75
90
120
150
Water connection (mm)
40
Net weight (kg)
46
49
60
68
68
Net dimension LxWxH (mm)
903*349*654
903*349*654
991*349*654
991*349*754
991*420*757
RRP
Madimack pool heat pump price list
*ALL PRODUCT, PRODUCT SPECIFICATIONS AND DATA ARE SUBJECT TO CHANGE WITHOUT NOTICE TO IMPROVE RELIABILITY, FUNCTION OR DESIGN OR OTHERWISE PLEASE SEE DATA PLATE ON PRODUCT FOR SPECIFIC SPECIFICATIONS.
*Unless purchased through a Certified Madimack Online Dealer, product warranties revert to statutory 12 month warranty. Refer to Madimack website for list of Certified Online Dealers in order to secure expert service & support of Madimack products.
Review Madimack's suite of advanced products,
built to enhance your lifestyle