POOL INDUSTRY'S MOST ADVANCED HEAT PUMP
Industry first commercial grade centrifugal fan in residential unit. Market leading efficiencies with COP up to 16.4. Revolutionary design to improve ventilation requirements, efficiency & noise.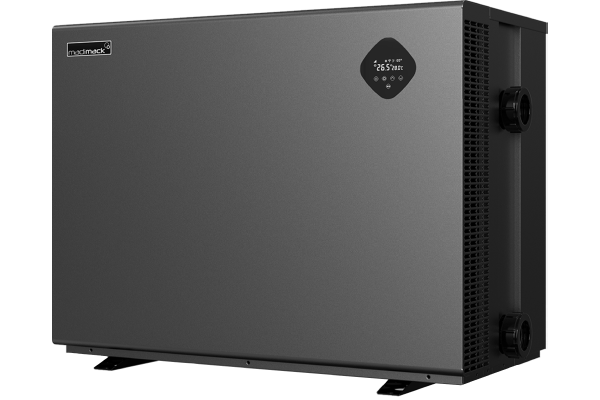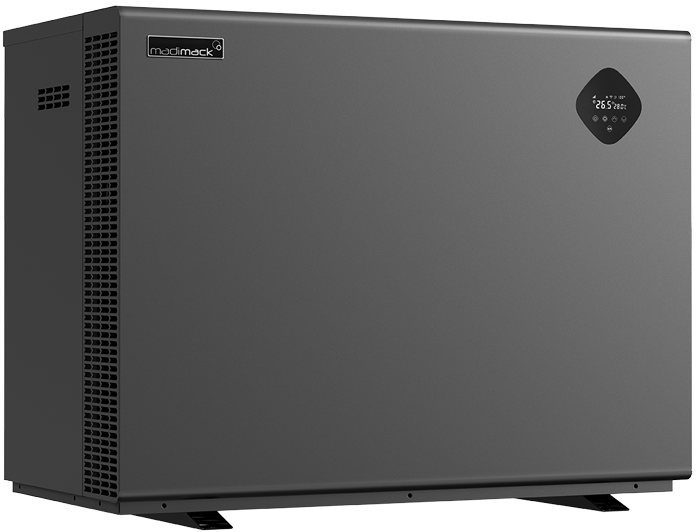 The Elite V3 has been redesigned from the ground up to bring a revolutionised pool heating system to the Australian market. In conjunction with the newest inverter technology the unit delivers better airflow, higher efficiency, quieter operation and performance. The unit exclusively delivers market leading installation requirements, providing space saving options for Australian backyards. Engineered with durability in mind, the Elite V3 operates at optimal levels even in the most corrosive and erosive environments. The Elite V3 sets the standard for other pool heating solutions.
Quietest Heat Pump Available

Patented material science that increases sound attenuation making the Elite V3 the quietest heat pump available. Sound is absorbed through the triple insulated compressor compartment and advanced engineering design.

User Friendly Interface

Elite V3's intuitive logic and componentry delivers unrivalled cold-air performance for truly 'all-season' heating. Smart, efficient & powerful with intuitive commissioning and monitoring built into a smart diamond display.

Centri-Flow Technology

Centri-Flow Performance is created by a commercial grade fan in a residential unit. The Elite V3 has the only true side air discharge with centrifugal fan technology, removing air-turbulance, back-pressure and noise with the perfect engineered 90 degree directional airflow.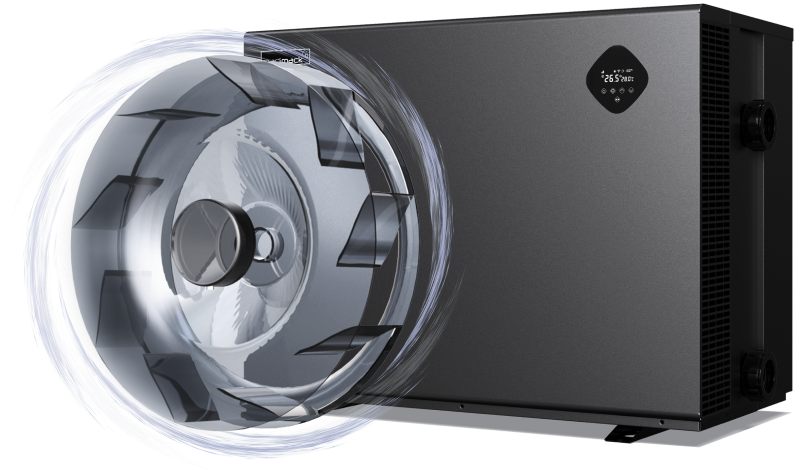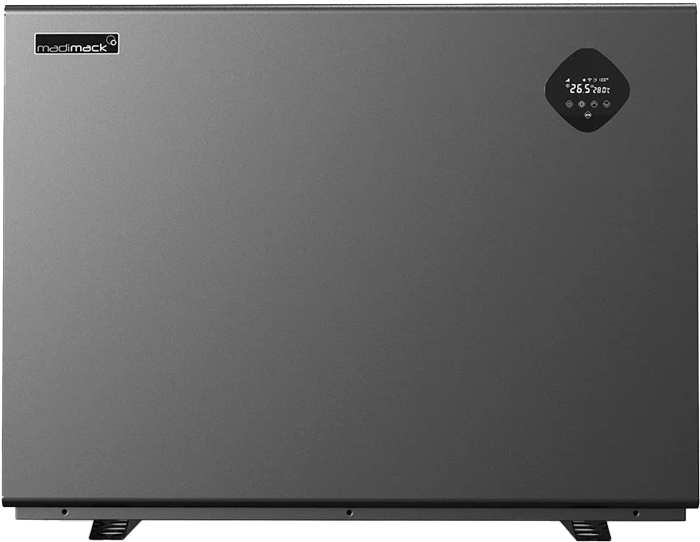 Highest Efficiency Levels

Achieves market leading COP16.4

Power Supply

Allows for a 10AMP plug in an 11kW heat pump

Premier Service

Supported by Madimack's service and support pipeline

Unique Side Ventilation

Dramatically reduced ventilation requirements due to its finely engineered system, including unique side ventilation

Market Leading Warranties

25 years on titanium heat exchanger / 10 years on compressor / 5 years on all parts
Heat Pump Sizing Tool & Consolidated Pool Heating Report
A correctly sized heater will save you & your client time. Madimack's Heating Evaluation is an essential tool for your business & can be accessed easily online, anytime, anywhere.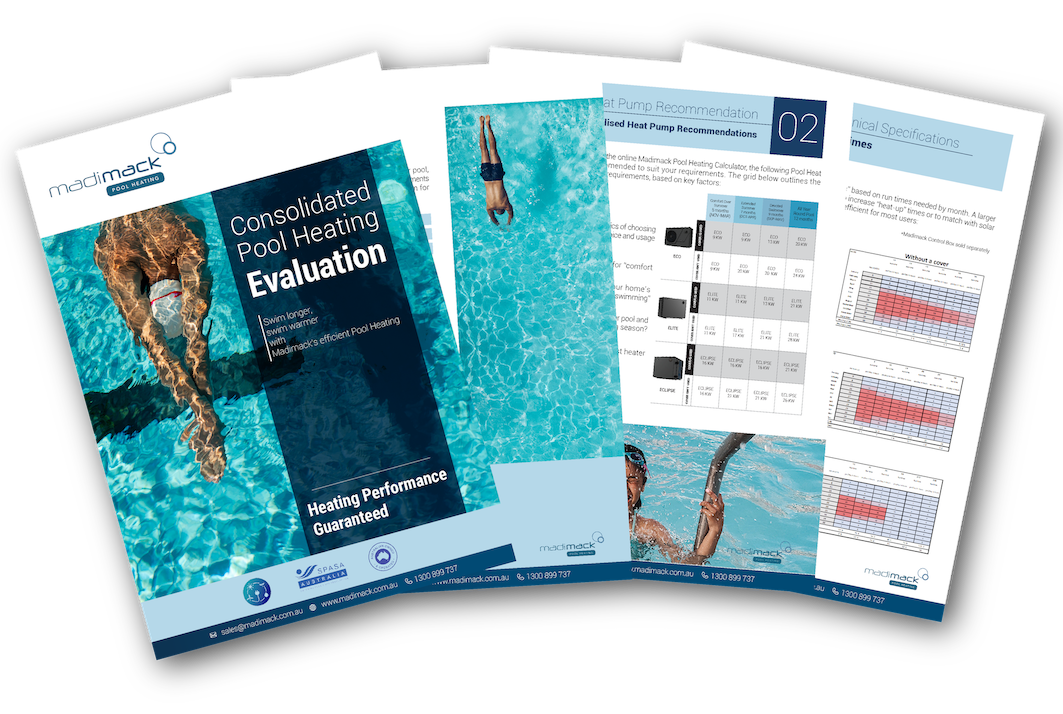 Frequently Asked Questions
Which ​swimming pool heat pump ​is right for my residential swimming pool?
The size of the swimming pool heat pump depends on various factors such as:
Pool dimensions
Swimming season (All year round or specific months of the year)
Desired water temperature
If the pool is covered when not in use
Pool geographic location
Madimack has made it easy for anyone to get their hands on the optimum selection for their swimming pool heat pump. Introducing the online swimming pool heat pump calculator, a fully integrated online tool that can send you a full heating evaluation for your swimming pool in less than a minute!
Please follow the link below for your customised pool heating evaluation:
https://www.madimack.com.au/pool-heat-pump-calculator-2
Madimack offers three different types of swimming pool heat pumps for residential facilities - Elite Silent as the premium model, Summer Eco as the cost-effective model, and Eclipse as the space-saving heating and cooling system.
Whatever heat pump model you get your hands on, rest assured that you own the latest inverter technology and a standard remote control through a Wi-Fi app on your phones or tablets.! Also, Our titanium heat exchanger comes with 25 years of warranty and our entire range of swimming pool heat pumps are capable of operating in temperatures as low as -10°C and as high as 43°C, with heating capacities ranging from 9kW up to 35 kW meeting requirements of all residential pools.
If I use salt in place of chlorine, will it damage the ​pool heat pump?
All Madimack pool heat pumps are equipped with a titanium heat exchanger, this allows the heat pump to heat any type of water such as chlorine, salt, and bromine which are the most common in the swimming pool industry. To give you an extra piece of mind, we offer 25 years of warranty on the titanium heat exchanger!
Where should I place my electric pool heat pump?
Electric pool heat pump units are weatherproof and are designed to go outdoors. They are built built with a marine grade aluminium alloy to withstand the harsh Australian weather conditions including heavy rain and wind.
How long does the swimming pool heat pump ​run in a day?
The swimming pool heating system will run for different amounts of time depending upon the size of the pool and unit installed, the time of the year and the location.

On warm sunny days in summer, when the pool is up to room temperature, the heat pump may not need to run for more than 1-2 hours. But as the colder period starts to arrive it may need to run up to 8-10 hours.

A heat pump can run for up to 24 hours a day but we recommend not going above 16 hours as you should be able to get the required temperature within the 16 hours if the unit you installed is the right one for your specific pool conditions - Some days/ weeks may be excessively cold and may require more hours to run.
A Tip: Always oversize when purchasing a pool heater. An undersized pool heater takes longer to heat and cost more money to operate.
Undersized heaters may have to run for 24 hours a day and may still not give you the desired temperature. So, please ensure you do a pool heating evaluation, which is free of charge and is automatically sent based on your pool conditions.
https://www.madimack.com.au/residential-pool-heat-pump-calculator
What does "3-Phase" and "Single-Phase" mean?
This is the type of electrical supply that the heat pump needs. Smaller swimming pool heat pumps that are used for the residential homes are normally single phase.
The Madimack Elite Heat Pump range is the highest single phase heat pump available in the market.
Larger pools, commercial pools or all-year-round swimming pool heating system units may be a 3-phase model.
What is a COP?
The COP is the Coefficient of Performance. COP is a ratio of energy input to output. For instance, a unit with a COP of 10 would use around 8kW of electricity and will provide 80kW of heat (i.e. 10*8=80kW)
Madimack heat pumps bring you the most efficient electric pool heater systems that come with an average C.O.P of 10 and in some circumstances up to 20. This means that for every unit of energy heater consumes, it produces 10 units worth of heat.
How long will an electric pool heater take to heat a swimming pool?
A heat pump can heat a pool even in temperatures as low as -15 degrees. Even though this is the case, a heat pump extracts the heat from the air so the warmer the air the more efficient the heater.
It may be more efficient to run the heat pump through the day time where the ambient air is warmer and more humid.
Do winters lower heat pump efficiency?
It does. Pool heating systems draw their heat from the air around them. The efficiency of the unit is reduced when the temperature is lower and there is less ambient heat available to draw from.
We consider this while designing our pool heating systems to bring you only the best pool heaters that maximize efficiency and deliver optimal results even in winters.
Require More Information? Get in Touch to Receive a Detailed Heating Report
Fill out our contact form and a member of our dealer support team will reach out to you shortly!
Model
ESV3-110
ESV3-140
ESV3-170
ESV3-220
ESV3-270
ESV3-320
ESV3-400
PERFORMANCE CONDITION: Air 27°C/ Water 27°C/ Humid. 80%
Heating capacity (kW)
11.5
14
17
22.5
26.9
31.5
40.5
COP range
16.0~7.3
16.0~7.4
16.1~7.1
16.2~7.1
16.1~7.3
16.4~7.2
16.0~7.0
PERFORMANCE CONDITION:Air 15°C/ Water 26°C/ Humid. 70%
Heating capacity (kW)
7.7
9.3
11.5
15.0
18.0
21.8
29.0
COP range
7.5~5.0
7.6~5.1
7.8~5.0
8.2~5.1
7.9~5.1
8.0~5.2
8.3~5.1
PERFORMANCE CONDITION:Air 35°C/ Water 26°C/ Humid. 70%
Cooling Capacity (kW)
4.6
5.6
6.5
8.1
10.2
12.2
15.0
TECHNICAL SPECIFICATIONS
Operating air temperature
-15°C~43°C
Compressor
Twin-Rotary Mitsubishi DC Compressor
Heat exchanger
Twisted Titanium Heat Exchanger
Casing
Marine Grade Aluminium Alloy Casing
Power supply
230V/1Ph
400V 3Ph
Electrical connection
10A Plug
15A Plug
Hardwired
Hardwired
Hardwired
Hardwired
Hardwired
Rated input power (kW)
0.24~1.79
0.29~2.16
0.36~2.67
0.45~3.33
0.54~4.0
0.59~4.36
0.78~5.8
Rated input current (A)
1.04~7.78
1.09~8.34
1.57~11.63
1.96~14.48
2.35~17.39
2.56~18.96
1.13~8.41
Maximum input current (A)
9
11
13
16
18
21
10.5
Sound level at 1m dB(A)
36.3~44.5
36.5~45.9
39.3~46.7
39.5~49.8
39.8~50.2
40.3~50.8
40.6~51.3
Sound level at 10m dB(A)
16.3~24.5
16.5~25.9
19.3~26.7
19.5~29.8
19.8~30.2
20.3~30.8
20.6~31.3
Advised water flow (L/Min) ±20%
65
80
100
125
150
180
230
Water connection (mm)
40
Net Weight (kg)
66.00
73.00
75.00
91.00
114.00
136.00
160.00
Net dimension LxWxH (mm)
750*504*656
750*504*656
839*504*656
979*504*756
1132*514*756
1029*512*1107
1139*512*1106
RRP
Madimack pool heat pump price list
*ALL PRODUCT, PRODUCT SPECIFICATIONS AND DATA ARE SUBJECT TO CHANGE WITHOUT NOTICE TO IMPROVE RELIABILITY, FUNCTION OR DESIGN OR OTHERWISE PLEASE SEE DATA PLATE ON PRODUCT FOR SPECIFIC SPECIFICATIONS.
*Unless purchased through a Certified Madimack Online Dealer, product warranties revert to statutory 12 month warranty. Refer to Madimack website for list of Certified Online Dealers in order to secure expert service & support of Madimack products.
Review Madimack's suite of advanced products,
built to enhance your lifestyle