SELECT THE BEST
CLEANING OPTION
Cleaning preference is not just a matter of technology. Select the pool cleaning partner best suited to your pool shape, size and environment.
What to consider when choosing the robotic pool cleaner?
There are powerful pool cleaning alternatives available for the pool owners that are best suited as per their lifestyle and needs. Whether it is a corded pool robot or the new revolutionised battery operated cordless one, whichever robotic pool cleaner you choose please first ensure it is appropriate for your pool set up.
Amount of debris

Managing the cleaning cycle

Money saver

Battery life

Pollutant-free pool

Low maintenance

Intelligent navigation
Cordless robotic Pool Cleaner Selection Tool
Madimack has a pool robot for any aquatic set up. Selecting the correct cordless pool robot will optimise your cleaning solution.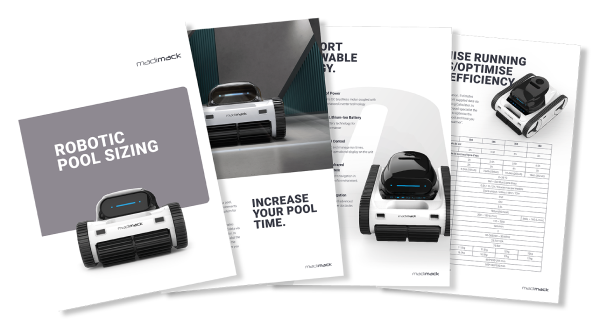 Which robotic pool cleaner is right for you?
Created by Madimack experts, this interactive tool will indicate the best suited robot pool cleaner for your lifestyle and needs. Whether it is a corded or a cordless, enjoy your sparkling pool with the Madimack GT Robotics range. Packed with the latest features and benefits and the longest battery life available.
Robotic Pool Cleaner
Interactive Tool for Pool Owners
Which Robotic Pool Cleaner is right for you?