WHAT SIZE PUMP DO I NEED FOR MY POOL?
Selecting the pool pump as per your preferences is essential for efficient pool maintenance and cost savings. Before making a final decision, it is best to gain valuable insights into the performance and reliability of different variable speed pool pump models.
Here are some steps to help you choose the right pool pump for your swimming pool.
Enviro Friendly: Madimack Inverter Pool Pumps are among the best pool pumps in Australia
STEP 1: DETERMINE THE TURNOVER RATE: The turnover rate is the period required to filter the total amount of water inside a swimming pool. A common recommendation is to have 1 turnover every 6 to 8 hours, meaning the pool water should be completely filtered every 6 to 8 hours. This is important for removing contaminants and keeping the water clean and safe for swimming.
STEP 2: CALCULATE POOL VOLUME: To ascertain what size of pump you need for your pool, it is important to know how much water is there in your pool. Measure the dimensions of your pool (length, width, and depth) and calculate the volume in litres.
Here's a typical formula to measure the volume in litres of a square or a rectangular pool:

Length x Width x Average Depth = Pool Volume
STEP 3: CHOOSING THE RIGHT PUMP: Once you know the required pool volume and have accounted for resistance and back pressure, you can choose a pump that can deliver the necessary flow rate. Selecting the right horsepower to determine the pump you need depends on your pool requirement. A professional can help you pick the appropriate pool pump based on your specific pool size. Locate the Madimack dealer today!
Consider the energy efficiency of the pump you choose, as more energy-efficient models can save you money in the long run.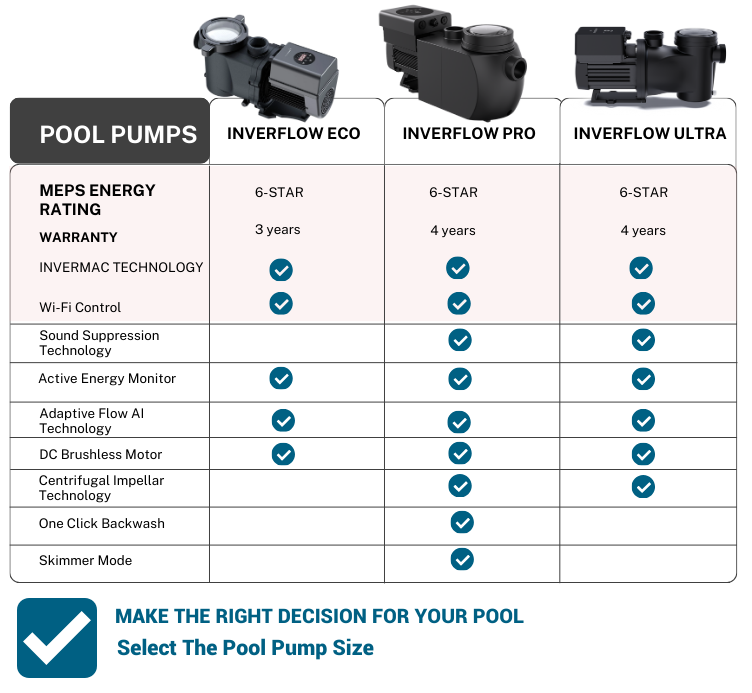 If you're unsure about the right pump size for your pool, it's a good idea to consult with a professional pool contractor or a pool supply store. They can help you determine the specific requirements for your pool and recommend an appropriate pump size.
STEP 4: CALCULATE PUMP SIZE: To find out the right pump size, you will need to consider the pool's volume and desired turnover rate. Divide the pool volume by the desired turnover rate in hours to get the flow rate needed.

For example: if we have a 50,000 L pool and we want to have a turnover every 6 hours then the required flowrate will be as follows

Once you've calculated the required flow rate in liters per minute, you can use this value to select a pump that can deliver this flow rate taking into consideration the back pressure in the system.
STEP 5: CONSIDER THE PUMP'S ENERGY EFFICIENCY: In locations like Brisbane, Sydney, Melbourne, Townsville, Perth, Hobart, Canberra, and Adelaide, energy-efficient pool pumps are recommended. Look for pumps that meet Australian energy efficiency standards and are labeled with MEPS energy ratings.
We always recommend the Madimack InverFLOW variable speed pool pump series, energy-efficient pool pumps that come with a 6-star MEPS rating.
ENERGY SAVINGS OF UP TO 80%: Incredible 'return on investment' with Madimack Pool Pumps
Madimack's InverFLOW Series marks another milestone in that every model has been classified with a 6-star MEPS rating.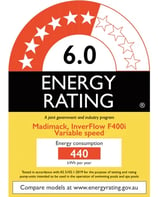 MEPS is Australia's regulation for energy rating and currently, six stars is the highest energy rating that a pool pump has achieved. Every model in the InverFLOW Series meets this standard.
Using inverter technology over on/off technology can produce energy savings of up to 80%.
Download: InverFLOW Pool Pump brochure
STEP 6: CONSIDER ADDITIONAL FEATURES: Some pool pumps come with additional features like timers, automation, and digital controls. These features can help you optimize your pump's performance and energy efficiency. Features such as the active energy monitor, built-in timer, and user-friendly interface, make it a convenient and easy-to-use option for pool owners.
If you need assistance in your search for the right swimming pool pump for your swimming pool, we'll be happy to answer your queries.
Find out more on Madimack's full range of energy-efficient products at www.madimack.com/au



Please take a few minutes to complete this form, let us know more about your pool pump needs, and our expert will be in touch!