How do Cordless Robotic Pool Cleaners Work?
Cordless Robotic Pool Cleaners are easier to maintain and operate than corded pool cleaners. Manual cleaning of swimming pools is labour-intensive and very time-consuming. Cordless Robotic pool cleaners are a smart choice for your weekly pool maintenance schedule. You can clean the entire swimming pool without the hassle of wires. Cordless robotic pool cleaners come with powerful cleaning performance and a stylish lightweight design.
Robotic cleaners are very energy efficient and easy to operate with the onboard active display. When you are ready simply take it off charge set the settings you want and drop it into the water. It gives you all kinds of choices to set the cleaning cycle - All set-able with the on board controller
When removing the robotic cleaner, you can easily remove the filter basket and rinse it with water.
Enviro Friendly: Madimack Robotic Pool Cleaners are among the best in Australia
Madimack's GT Freedom, the cordless robotic pool cleaner is designed to revolutionise the way you experience the world. Madimack's enhanced inverter technology, InverMAC, is engineered to support inverter motor operation. Know the advantages of owning GT Freedom which extends the lifespan of a cordless robotic pool cleaner.
InverMAC technology:

Enhanced efficiency supported by superior motor performance, precision-designed hardware and smart features.

Dual Drive and DC Brushless Motor

: Increased power and advanced mobility to overcome obstacles.

Intelligent Navigation System

: Advanced programming with engineered infrared guidance system

Active Panel Control

: Flexibility to set and manage run times, cycle times and operational display on the unit.
Advanced Lithium-Ion Battery

: Up to 8 hours of power. Delivering extended run-times, heightened performance and durability.
Cordless robotic pool cleaners have in-built sensors that detect the shape and size of the pool for intelligent path-driven cleaning. Depending on the robotic pool cleaner type, you can choose the cleaning mode i.e. wall or floor, or waterline.
With our active daily lifestyle, you can leave for work in the morning without worrying about cleaning the pool in your presence. Just set the schedule and throw a cordless robotic pool cleaner in the water and you don't have to think about it further.
Another major advantage of having a cordless robotic pool cleaner is that it comes with the latest advanced technology and you don't have to worry about anything else. Being a pool owner you would be able to get a top performance at a more economy-friendly budget.
When the battery is low, the cordless robotic pool cleaner will automatically move to the edge of the pool for easier pick up with a telepole
Operating a cordless robotic pool cleaner is easier than thought. You put it into the water and it will do what it is supposed to do, while you relax and enjoy your favourite mocktail with the family.
What cordless robotic pool cleaner should I buy?
Madimack's range of robotic pool cleaners is an innovation in cordless living. Madimack recommends opting for a cordless robotic pool cleaner which gives you more time to enjoy. Madimack introduces one of the powerful cordless robotic pool cleaners - GT Freedom.
It comes with DC brushless motor coupled with InverMAC-enhanced inverter technology.
GT Freedom is the next-gen option for cordless swimming pool cleaning with a worktime of up to 8 hours of power and a 3D S path with InverMAC technology. Madimack's GT Freedom comes with a three years warranty and friendly customer service.
Find out more on Madimack's full range of energy-efficient products at www.madimack.com/au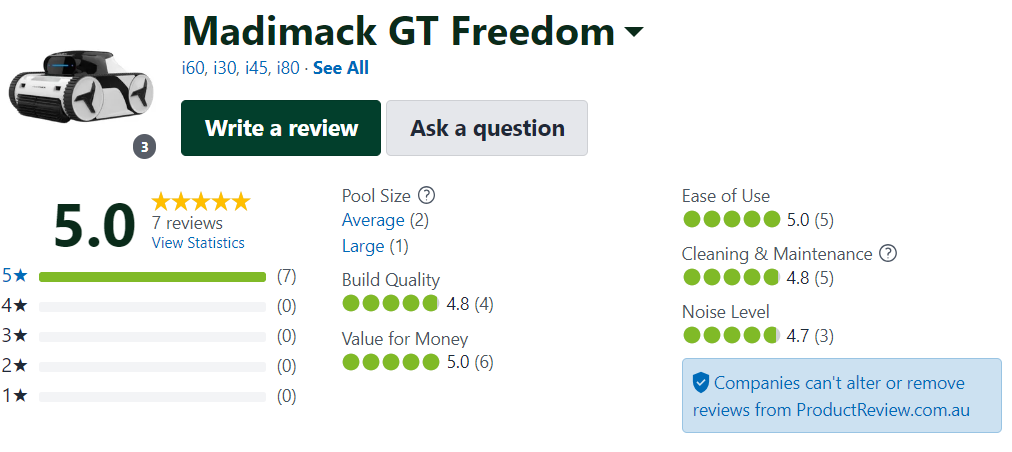 Please take a few minutes to complete this form, let us know more about your robotic pool cleaner needs, and our expert will be in touch!