Embracing Convenience: 5 undeniable benefits of buying and using a Cordless Robotic Pool Cleaner
Technology has revolutionised the way we clean our pools, offering pool owners the opportunity to simplify and automate maintenance tasks. Cordless robotic pool cleaners have emerged as a game-changer, providing numerous benefits that make pool ownership more enjoyable and hassle-free. This article explores the advantages of owning a cordless robotic pool cleaner and highlights 5 key features to look for when purchasing one. Additionally, we will introduce Madimack's GT Freedom robotic pool cleaner, renowned for its exceptional cleaning capability with an impressive cleaning cycle of up to 8 hours, equivalent to one month of cleaning. Ask these questions when you're buying a robotic pool cleaner to ensure you're buying quality and performance!
Cordless Robotic Pool Cleaner
Imagine the experience of swimming in your pool without manually cleaning it. Now say goodbye to tangled cords that create a hazard at the side of the pool. Imagine just dropping your cordless robotic pool cleaner in the water and turning it on. You don't have to be physically present when it runs the cleaning cycle. When the cleaning cycle is completed, pull it out and clean the filter if needed.
Intelligent Navigation Cleaning for Double Coverage Efficiency
Powered by highly efficient navigation cleaning which allows you to map your pool's surfaces for a more efficient cleaning at your fingertips. Robotic pool cleaners allow you to set up in-built sensors and cleaning cycles to navigate freely and move around the pool as they clean to collect debris. GT Freedom, the cordless robotic pool cleaner from Madimack uses advanced systematic dual-drive navigation and intelligent cleaning to overcome obstacles. Want to know more? Check out this video.
Money Saver
The cordless robotic cleaner is super energy efficient and has a very low impact on your home energy consumption. It's recommended to opt for a quality cordless robotic pool cleaner that will last a long time and be worth the investment. It saves a lot of time than manually cleaning the pool. Cleaning the pool by using a cordless robotic pool cleaner save both time and money. If you own a large pool or get ample debris in your pool, the cordless robotic cleaner will clean the pool in less time, thus saving on electricity bills. Madimack's cordless robotic pool cleaners come with a warranty of 3 years.
Battery Life
Allow the robot cleaner to charge fully. Most cordless robotic pool cleaners have a battery life of more than two hours. Once fully charged, the robot will clean the pool automatically to collect debris and leaves. Madimack's GT Freedom comes with a battery power of up to 8 hours with a single charge for up to a 1-month cleaning cycle.
Pollutant-free Pool
Within a few minutes, a cordless robotic pool cleaner will clean and filter the entire pool area and walls. With an internal filtering system that will remove debris such as leaves, silt, algae, and harmful bacteria, it will improve water circulation and reduce the pool's chemical usage. It reduces the usage of additional chemicals to treat the algae growth and allows the chemicals in the water to work more efficiently. GT Freedom's magnetic filter basket is spacious enough to collect large debris without clogging.
Low maintenance
Cordless robotic pool cleaners require very less maintenance as compared to traditional pool cleaners. Just plug it in, drop it in the pool, let it sink, and activate the timer through the App. With a longer life span than traditional pool cleaners, the cleaning robots will do the lengthy task of cleaning the pool in a few minutes. Unlike traditional pool cleaners, the filter in the cordless robotic cleaners needs to be cleaned once in a while. Remember to remove the robot after each use to empty and rinse the filters.
With cordless robotic pool cleaners, you can have your pool sparkling clean within a few minutes. If you are thinking about buying a cordless robotic pool cleaner for a healthy swim time with your family, you absolutely can't go wrong with Madimack's cordless robotic pool cleaner, its most streamlined to date is the new GT Freedom. Designed and engineered with DC brushless motor coupled with InverMAC enhanced inverter technology, 'GT Freedom' comes with an advanced Lithium-Ion battery with up to 8 hours of power and the flexibility to set and manage the cleaning cycle. Overall the cordless robotic pool cleaner is a great choice for just about any pool style.
Find out more on Madimack's full range of energy-efficient products at www.madimack.com/au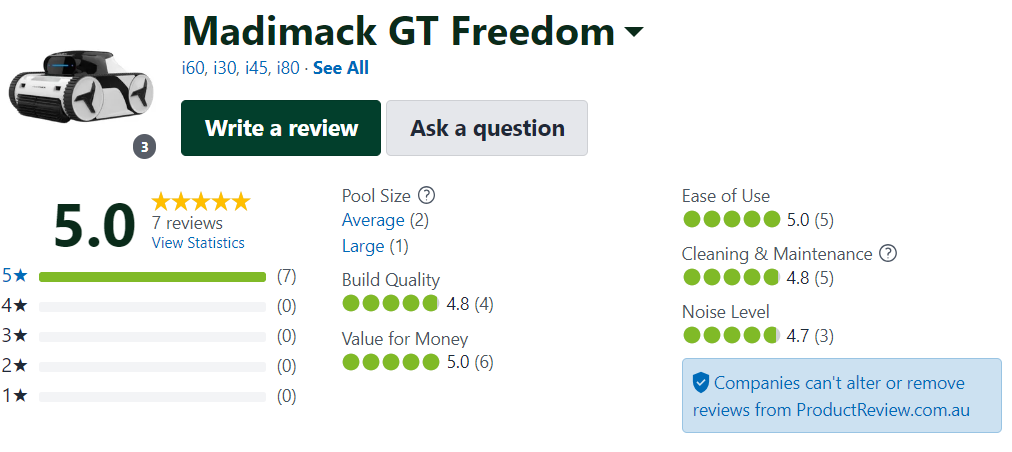 Please take a few minutes to complete this form, let us know more about your robotic pool cleaner needs, and our expert will be in touch!