The benefits of selecting efficient pool equipment can be massive
Pool owners in Australia don't need reminding of the high costs in maintaining a pool, whether during summer when the pool is used frequently or off-season when the pool is more of an unused but beautiful-looking backyard feature. One of the biggest contributors to operating costs is the average pool pump - contributing approx. 30% of a household's total energy bill. Traditional pool pumps are known to consume way too much energy, resulting in high electricity bills - a motivating factor behind Madimack's release of the InverFLOW Pool Pump Series - a new standard in pool pumps focused on restricting energy consumption but delivering on features.
Madimack's InverFLOW Series has raised 'pool-pump-standards' and paved the way for energy savings for pools around the world. This article discusses the advantages of opting in to energy saving technology, such as InverMAC, to ensure your pool operating system is supported by enhanced features along with functional user benefits that all pool-owners should be enjoying.

Madimack's efficient InverFLOW Pool Pump uses enhanced inverter technology to regulate the speed of the pump motor, resulting in energy savings of up to 80%. Traditional pool pumps run at a constant speed, which is often higher than what is required to maintain clean pool water. Being restricted to a pump that runs at a fixed speed results in unnecessary energy consumption and high electricity bills. However, with inverter technology, the pump motor can be slowed down or sped up according to the required flow rate, resulting in significant energy savings. Add to that enhanced technology that enables intuitive speed adjustments and, as a bill-paying-pool-owner, you're winning!
In addition to energy savings, inverter pool pumps are much quieter than traditional pool pumps. This is because the pump motor is not running at a maximum speed, which reduces operation noise levels. The reduced noise is especially beneficial for pool owners who live in close proximity to their neighbours.
InverFLOW advanced features
Madimack's InverFLOW Pool Pump has several features that make it stand out from traditional pool pumps. Firstly, a variable speed motor, which means that it can operate at different speeds depending on the required flow rate. Secondly, a built-in timer, which allows pool owners to set the pump on and off at specific times. Finally, a user-friendly interface, making it easy to operate and monitor.
InverFLOW has raised the standards of maintaining a clean and clear pool
The 'return on investment' for most pools that install Madimack's InverFLOW Pool Pump Series is changing the way pool owners think about pool pump technology. Using inverter technology over on/off technology can produce energy savings of up to 80%. The option to install a pool pump powered by InverMAC technology is a no-brainer for most pool owners.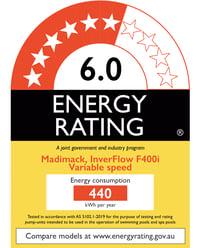 Madimack's InverFLOW Series marks another milestone in that EVERY model has been classified 6 Stars MEPS rating. MEPS is Australia's regulation for energy rating and currently six stars is the highest energy rating that a pool pump has achieved. Every model in the InverFLOW Series meets this standard.
In addition, features such as the an active energy monitor, built-in timer, and user-friendly interface, make it a convenient and easy-to-use option for pool owners.
If you're a pool owner wanting the best solution for your pool, it's time to consider Madimack's InverFLOW Pool Pump Series and start reaping the benefits of inverter pool pump technology.
Find out how to save on your pool operation bills