How to install a Madimack pool heater - heat pump?
Pool heat pumps can be installed easily in most of the cases, in this blog we will take you through the installation process that our skilled technicians and engineers follow upon installing a new pool heat pump.
Before installing the pool heater:

check that the following conditions apply for a smooth and easy installation of the heat pump:
1- You have enough electrical power to run the pool heating system.
it is preferred to have a 20A power circuit dedicated for pool heating, the input power needed is directly proportional to the pool heat pump size, the higher capacity the more input power required, our products brochure includes the exact numbers for power consumption. (check the bottom of the blog to find the link to our brochure)
For large pool heat pumps (35 kW, 60kW, and 110 kW) you need to make sure that you have 3 phase connection, if you are not certain about that, ask your electrician for information about that. It is also possible to add in two or even three heat pumps which are single phase to overcome this problem. Our experts can advise you if this is an option.
2- Choose a suitable location for the heat pump.
Pool heat pumps require adequate ventilation in order to run efficiently, the cycle of heating is fuelled by the energy in the surrounding fresh air which is why they are so efficient, therefore they can only be installed outdoors or if they are indoors there must be enough inlet ventilation and the outlet of the heat pump ducted. Cutting out or blocking the air from flowing through the pump's inlet will lead to a poor pump performance. An important tip to keep in mind is to place the heat pump on a levelled surface and with the rubber feet provided to minimise the effect of vibration.
Elite Silent unit recommended ventilation example.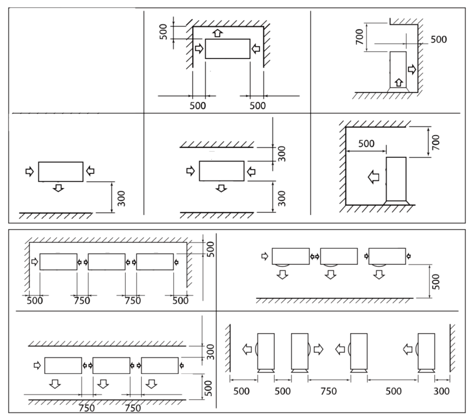 Installing the pool heater:
installing the pool heat pump might differ from a pool to another, however, the concept is always the same, the existing plumbing system consist of a filtration system and a chlorinator, The heat pump must be fitted after the filtration system (to ensure the flow of clean water through the pump's heat exchangers), and before the chlorinator. Check the diagram below for a general installation configuration.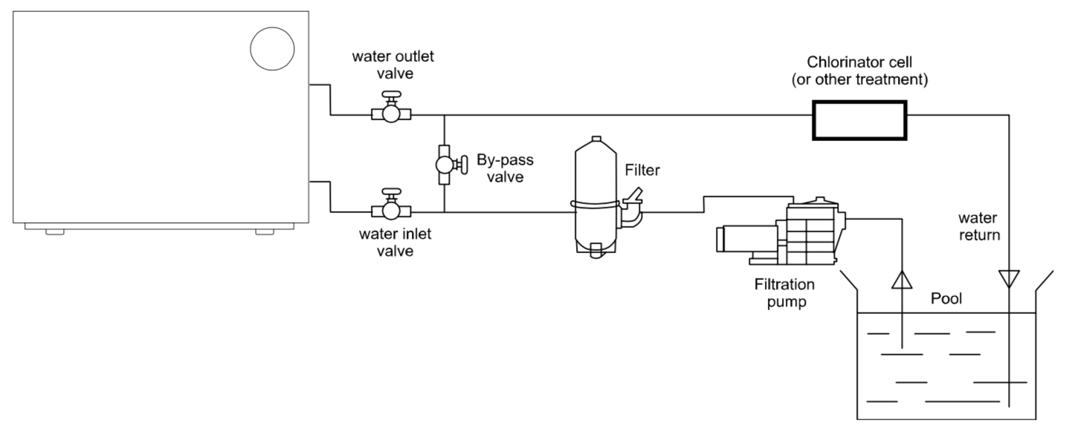 Note: pipes inlets, outlets, and bypass location might change based on site conditions.
All of our pool heating experts can guide you through the installation process and to calculate the pool heater you require you can check out our automated heat pump calculator here.
Let us know if you need to talk with one of our experts regarding any installation inquiry you have, we will be more than glad to assist you.
Check out our 2020 brochures for further details needed on our units specs
let us know for any inquiries you have