As a hotel, resort or wellness centre owner you want to offer your guests the greatest possible comfort.
Especially in summer, swimming pools are indispensable for holiday makers and guests. No matter if it is an outdoor or indoor pool, the temperature must fit. Typically water temperature between 25 and 28 degrees Celsius is perceived by most as pleasant and with younger children pools or spas it can be higher. Therefore it is not possible to rely purely on the power of the sun even in the summer. Therefor pool heating is essential! The best solution: a heat pump. Here I explain why.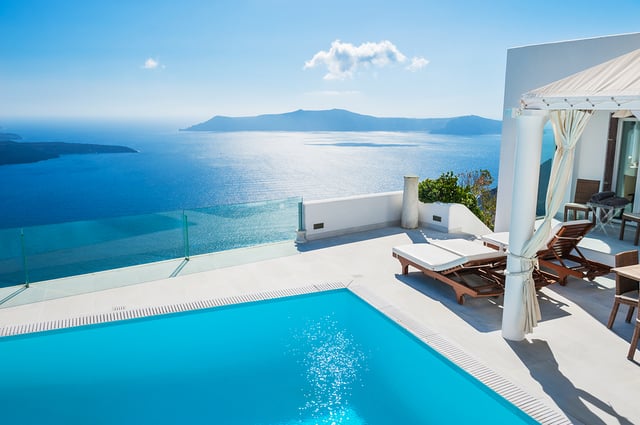 ADVANTAGES WITH A HEAT PUMP FOR POOL HEATING
Experts agree, heat pumps are a very good solution for larger pools and swimming pools that require a maintained temperature, they have relatively low operating costs, require little space, can be flexibly adjusted to the heat demand, run regardless of weather conditions, only need a power connection and can be incorporated easily with other renewable energy systems. Even large pools can be heated throughout the winter months. Typically an air-water heat pump is used, which is relatively easy to install and doesn't require further works such as drilling. It works by sucking in air, heats it and releases it to the pool water via a special titanium heat exchanger. If you use them exclusively for heating the swimming pool in summer, the heat pump releases heat up to five times the absorbed electrical power. Meaning for every 1kW spent 5kW of heat is created.
HOW POWERFUL MUST A HEAT PUMP BE?
It is advisable to seek advice from a specialist, as the efficiency of your heat pump should be tailored to the individual needs. The appropriate calculations with the relevant factors are taken in to consideration. It is then necessary to determine by how many degrees the water temperature drops daily or overnight. Because this difference has to be overcome the next day to reach the desired temperature. The required heat pump capacity is directly related to the time available for warming in the morning until the first guests arrive or the pool is opened. An example illustrates this: if the water temperature drops by one and a half degrees and six hours are available to bring the water back to the required temperature, the pump must provide a heating of 0.25 degrees per hour. For a medium-sized pool of 50 cubic meters (equivalent to a pool: five meters wide, seven meters long and 1.5 meters deep), this would require a heat pump with an effective heat output of 13 kW being required.
ALTERNATIVE: SOLAR HEAT FOR POOL HEATING
Of course, it sounds tempting to use a solar heater. Finally, the power of the sun ensures the warming of the water. However, this is only suitable for an outdoor pool, which is not used in winter. In addition to fixed installations, there are mobile solar pool heaters, which can be stowed away in the cellar in winter. This takes time and requires the appropriate storage space. In addition, it should be remembered that solar heaters generally consume a lot of space and are always dependent on the sunlight. When the temperatures are high, the water heats up nicely, though guests may prefer to cool off. In a rainy summer or a few cold days, the solar system may not get going properly and the water stays cool, and will again take time to heat up. There are solutions which allow the combination of solar models with heat exchangers, heat pumps or water heaters / electric heaters. But that makes things more complex, more expensive and more maintenance-intensive.
ALTERNATIVE: ELECTRICITY FOR POOL HEATING
An electric heater is only suitable for small pools. The heat is passed through a heating coil into the water. However, this variant requires much more power and it takes more time until a noticeable effect is achieved. The installation cost may be low and heater requires little space and is easy to install but over time will typically cost much more to use.
ALTERNATIVE: COMBINED HEAT AND POWER PLANT (CHP) FOR POOL HEATING
In large swimming and adventure pools, CHPs are also used. On the one hand, they heat the water in the pool, on the other hand, there is a great need for hot water in the showers and washrooms. In winter, the heat can be used in addition to heating the rooms. At the same time, the CHPs generate electrical energy for the circulation pumps needed to clean the pool water, the ventilation systems and the lighting. As a rule of thumb, heat-operated CHPs are economical from a running time of around 5000 hours per year. In the hotel resort sector, they are only suitable for very large spa and wellness departments. Anyone planning to switch their energy supply of their building to a CHP should also include swimming pools and spas in their calculations.
FURTHER TIPS FOR SAVING ENERGY ON POOL OPERATION
No matter which option you choose and even if you already have a swimming pool in your property, you should always try to use new technology. Even modern energy efficient circulation pumps should be considered as sometimes they can run for 14-16 hours a day, typically they are a more expensive option but over time reap rewards with energy and cost savings.
Pool covers also improve the energy savings of a swimming pool by reducing evaporation and heat loss throughout the night.
If you wish to find out more. Please talk to one of our experts.