Madimack has a range of market leading pool heating options, powered by InverMAC Technology, to maximise the enjoyment you get from your pool. Our solutions offer Best-In-Market pool heating solutions to savvy pool owners chasing ultimate efficiency and product features from their pool heating. Choosing the right solution can be daunting, so it's important that you are able to access the support and expertise that heat-pump technology requires to make the most of your investment. This article lists some of the main features and differences between Madimack's premium range of heating solutions #MakeitaMadimack.
Madimack support their pool heating solutions with leading warranties and customer service. Our expansive product suite has been designed by engineers to ensure pools around the world receive the love they deserve.
Remember to consult a specialist for your final heating selection. They will be able to guide you on the best pool heating option for your pool setup: local specialist can be located here.
Main differences between Madimack's pool heating range:
POOL HEATING RANGE:

InverECO, InverELITE V3, and InverECLIPSE
The InverECO has a high-density ABS anti-corrosion casing styled in a matt black look, while the InverECLIPSE and InverELITE V3 have a premium quality marine grade aluminium alloy casing for maximum corrosion resistance along with a sleek matt black aesthetic look.

The InverELITE V3 has a patented rear flow air design to have the lowest noise levels in the market, without the fan blowing at the front of the unit the noise level is reduced considerably. It also incorporates a special triple coil design to reduce air turbulence noise.
The InverELITE and InverECLIPSE have a flat front panel for premium looks, a must if the unit is on display next to your designer pool, while the InverECO is still in every way the best-looking Pool heat pump in the shape of most pool heaters its matt black finish really looks good.

The InverELITE V3 comes with 25 years warranty on the heat exchanger, 5 years warranty on parts, and 10 years on the compressor, while the InverECLIPSE comes with 4 years warranty on parts, and 5 years on the compressor. On the other hand, InverECO comes with 3 years warranty on parts and 5 years warranty on compressor. All our pool heat pumps have 25 years warranty on the heat exchanger.


All Madimack pool heat pumps are powered by InverMAC Technology, delivering enhanced inverter performance. There is no alternative to Madimack's pool heating performance.
Broadly speaking, choosing the right pool heater requires research and consideration of various factors such as your pool's environment, pool cover usage, equipment access, swimming habits, and local average temperature. These are the factors that will impact your pool heating choice.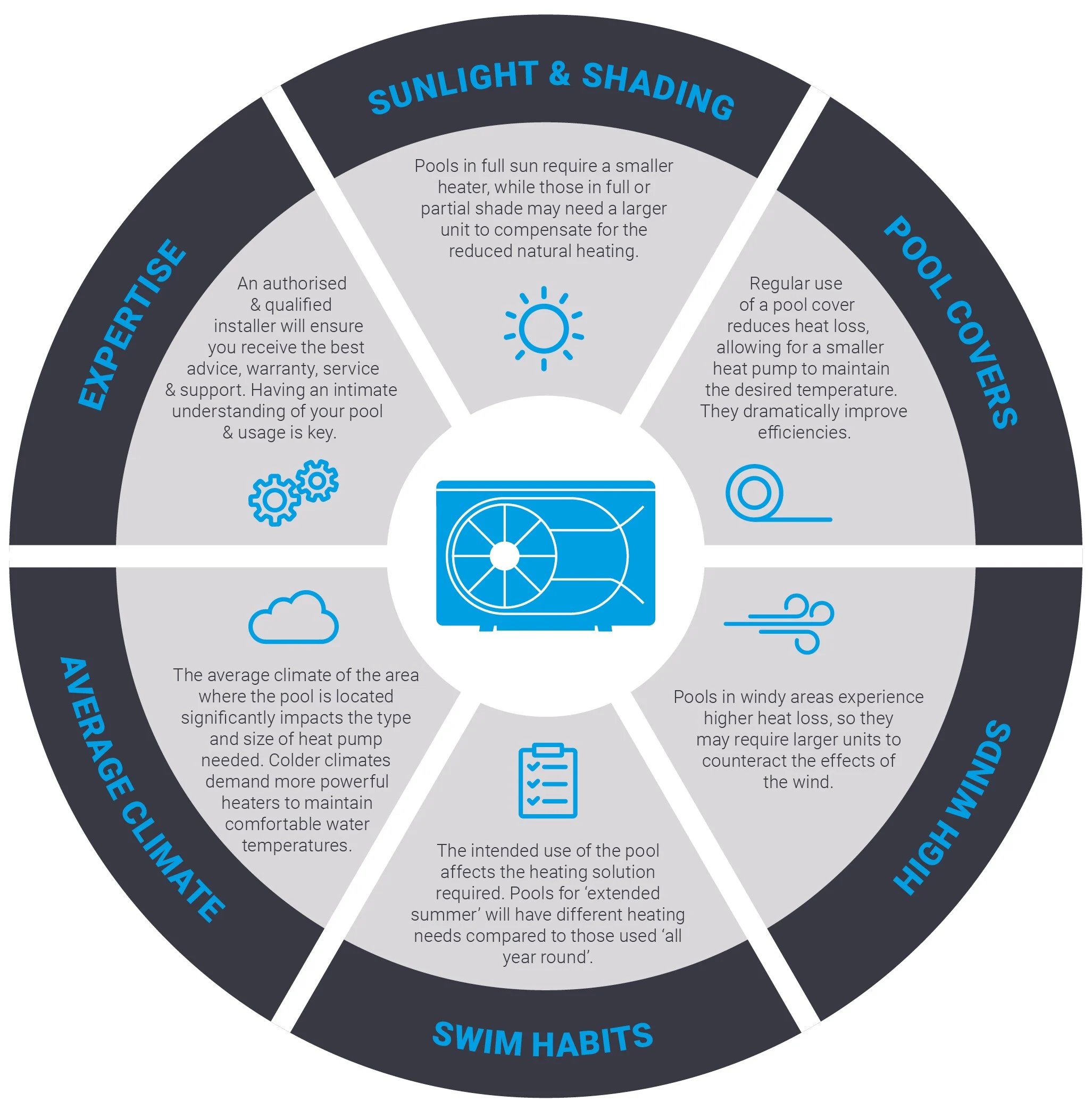 The InverECLIPSE has the best space-to-power ratio. This means the smaller profile and top airflow design allow for a more convenient and space-saving installation.

The InverECLIPSE is the only series that supports the heating/cooling options, The InverELITE and InverECO are heat-only units.

Both units have an automatic defrost function allowing them to operate at lower than zero conditions, however, for low ambient conditions and all-year-round swimming the InverELITE has a better performance at lower temperatures by about 15%. It's advanced ventilation provides additional energy efficiencies to reduce nasty utility bills.

All Madimack units utilise InverMAC, an advanced inverter technology for the highest numbers in efficiency and heating outputs, and are able to reach your desired heating temperatures all year round.

Review Productreview.com.au or Enviro-Friendly to evaluate your options further
Madimack partner with Surf Life Saving Academy to provide pool owners with complimentary CPR education & CPR pool chart. We encourage all Madimack pool owners to educate themselves with critical CPR skills via an online course designed specifically for Madimack customers, SLS Living Room Life Saver CPR Course.
Check the chart below for more insight into the differences between the units.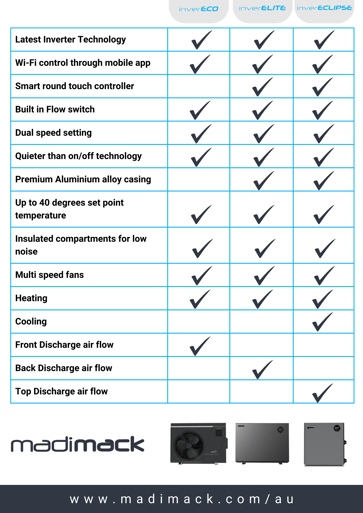 View Brochure: Madimack Pool Heat Pumps

Madimack partner with Surf Life Saving Academy to provide life-saving CPR education to all of our customers. Make sure you arm yourself with critical CPR skills before you relax in your aquatic paradise.
Madimack proudly sponsor the NRL Cronulla Sharks.
#MakeitaMadimack