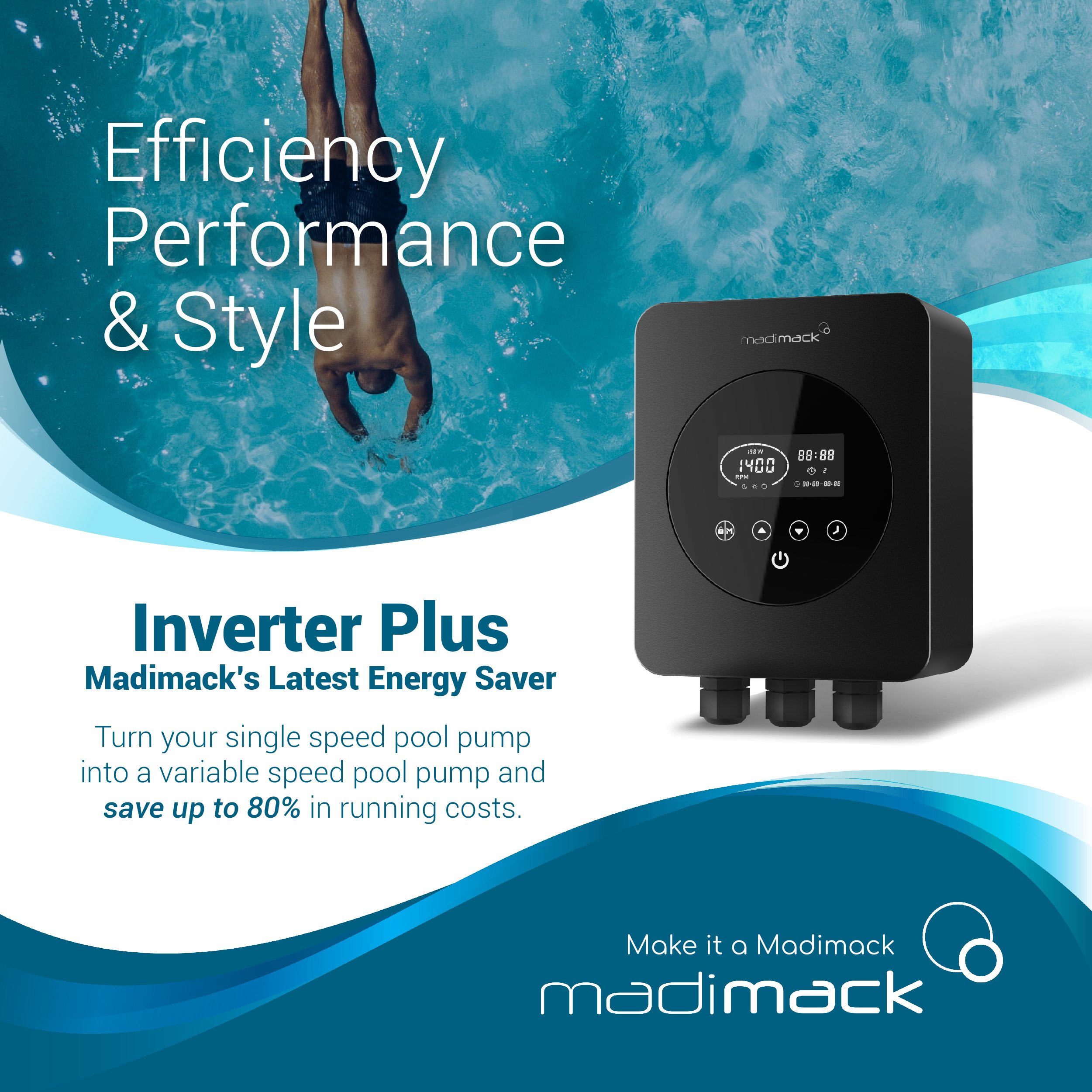 Energy efficiency is not merely a buzz-term for the experts. It is a lifestyle choice, a global directive that every human on the planet should be 'buying into' whether at a consumer or industry level. Madimack certainly 'buy into' it. Our single-minded engineers focus on driving energy efficient innovation into Australian households and industry, across our product line, daily.
With an estimated 25,000+ backyard pools built annually, equating to an average 13% of the overall population owning pools, Australia boasts the highest rate of backyard pools per capita, world-wide, and as a result, the greatest opportunity to drive environmental impact from the pool-sector. Unfortunately for the planet, Australia's
love affair with backyard swimming pools accounts for an outrageous
30% of a household's energy consumption.
….. But it doesn't need to.
The Inverter Plus is Madimack's latest energy saver. It is a 'plug'n play' variable speed controller for backyard swimming pool pumps; turning an energy-guzzling single-speed-pool-pump into an efficient variable-speed-pool-pump. This innovative unit is simply retrofitted to an existing single-speed-pool-pump, producing up to 80% instant energy & cost savings.
Single-speed-pool-pumps are installed in over 70% of Australian pools (residential and commercial). With the introduction of Variable Speed Drives (VSD) to pool filtration systems, the energy and cost benefits produced are enormous, crucially benefiting "net-zero" carbon markers.
The Inverter Plus requires minimal technical ability to install. In 50% of cases it can be shipped directly to consumers/commercial site without requiring additional assistance or funding of an accredited technician. It works in-tandem with existing equipment; so does not require the disposal of existing pumps or hardware - it is specifically designed as a 'plug'n play' add-on. Retrofitting less efficient existing single-speed pumps provides direct and instant cost benefits to Mum & Dad consumer or Facility Manager through ongoing energy and hardware-upgrade savings.
Madimack's Inverter Plus Product Features include:
Full Variable Speed Control – To Suit Any Pool Size
Latest SVPWM Control – Latest In Variable Speed Drive (VSD) Retrofit Technology
Up To 2.2kw Pumps – To Suit 98% Of Residential & Industry Pool Market
4x Timer Set Points – For Versatile Adoption
Live Energy Monitor – View Real-Time Energy Savings
Per Pool Residential Cost Savings est. $450+ p.a.
In figures verified by a case study implemented and researched in collaboration with Randwick City Council and the University of Sydney, the benefits of the Variable Speed Drives (VSD) include;
With the advancement of chip technology and the further understanding of pool equipment, the technology to integrate a one size fits all approach is ready for simple adoption by 95% of single-speed-pool-pump owners. What an incredible result for the environment that would be.
The recent case study from Low Carbon Living CRC, the University of Sydney and Randwick Council outlines the successes of installing VSD to single-speed-pool-pumps on the reduction of energy usage and increases in cost-savings. The Inverter Plus is a Madimack initiative designed to swiftly reduce home energy consumption of pool owners and drive Australia toward their global energy net-zero commitments.
For more details: Madimack Inverter Plus Full Details