Most Efficient Pool Heating Systems.
Life is not always comfortable but with Madimack's pool heat pumps your pool can be. Serving you the ideal temperature for you and your family to enjoy your backyard pool all year round.
Madimack Pool Heat Pumps offer efficient pool heating solutions to suit any pool size. Fully Australian owned and operated they are the authority in heat pump technology.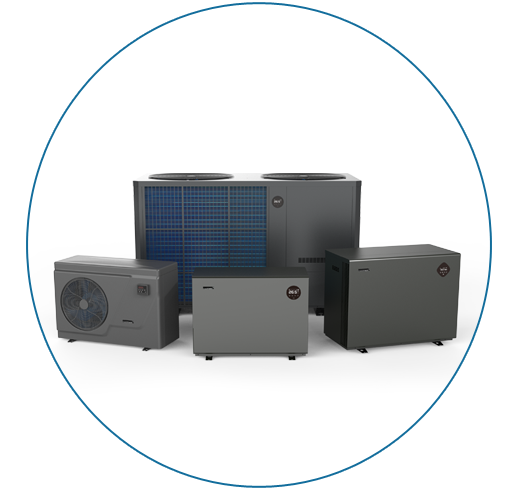 Offers both heating & cooling options between 12°C-40°C
Heating performance guarantee provided
Wifi features included Control the unit from your phone
25 year warranty on titanium exchanger
Ongoing engineering support provided
Largest range of units to suit any size pool
Built with efficiency and simplicity in mind, the quiet, long lasting and easy to use Eco is perfect for energy conscious minds. Encased in 'state of the art' anti-corrosion ABS casing, the Eco will keep your pool warm season after season. Madimack units include WiFi as a standard function, providing the convenience of being able to change your pool's temperature and timers from wherever your day takes you. Additional benefits include 'low energy' and 'night time' modes, enabling heating efficiency to increase by up to 20%. Madimack's Eco pool heating system provides everything your family needs for an extended season of pool-time fun
Energy efficient with COP up to 11
Full inverter compressor and inverter fan
Five models up to 24 kW in single phase
Quieter operation than on/off technology
Anti-corrosion ABS casing
Easy to use controller
Slim design
Wi-Fi as standard
Titanium heat exchanger with 25-year warranty
Front discharge air outlet
Reverse cycle defrost
Built-in flow switch and safety devices
Latest most eco-friendly R32 Refrigerant
TüV Rheinland certified
Up to 40 degrees set point temperature
The Elite V3 has been redesigned from the ground up to bring a revolutionised pool heating system to the Australian market. In conjunction with the newest inverter technology the unit delivers better airflow, higher efficiency, quieter operation and performance. The unit exclusively delivers market leading installation requirements of 100mm from the back and 300mm from the side, providing space saving options for Australian backyards. Engineered with durability in mind, the Elite V3 operates at optimal levels even in the most corrosive and erosive environments -Achieving a massive 31.8kW in a single phase. The Elite V3 sets the standard for all other heaters.
Extremely energy efficient with a COP of up to 16.4
Full inverter stepless compressor and fan
Sleek design
Six models up to 31.8kW in single phase
Three phase 40kW model
Patented slient design
Marine grade anti-corrosion aluminium alloy casing
Signature diamond touch screen and intuitive display
Marketing leading 10 year compressor warranty
reduce spatial requirements
Newest most eco-friendly R32 Refrigerant
Three coil evaporator for a more compact unit size
TüV Rheinland certified
Up to 40 degrees set point temperature
Industry first centrifugal fan
Advanced cold air performance
Largest industry single phase unit
Designed and engineered to meet the highest requirements for cooling and heating options, with full inverter compressor and top discharge fans for a streamlined efficient air flow; rest assured that you own the latest eco friendly technology. Enjoy new possibilities for pool heating and cooling with the space saving and slick design. Limited space is no longer a concern.
Full inverter stepless compressor and fan
Titanium heat exchanger with 25-year warranty
Advanced cold air performance
Built-inflow switch and safety devices
Extremely energy efficient with COP up to 16
Wi-Fi as standard
Cooling and heating
Top discharge air outlet
Built-inflow switch and safety devices
Newest most eco-friendly R32 Refrigerant
Enables more options to fit in space
Easy to use controller
3 models up to 26kW singlephase
Marine Grade anti-corrosion aluminium alloy casing
We are preferred suppliers of Madimack
Australia's authority in Heat Pump technology.
Heat Pump technologies are out performing gas and grid-electrics in all key metrics; cost, performance, efficiencies, longevity,maintenance and, importantly, renewability. This advanced technology is incredibly efficient, using a small amount of energy to extract heat from the air and recycling that heat through your pool water.
Madimack manufacture Pool Heat Pumps above industry standards; they're recognised for superior engineering, aesthetics, market leading warranties and end-to-end customer support. The brand carries a 5 star product rating... and ofcourse, a heating performance guarantee.
Benefits of a heated pool with Madimack heat pump technology
Increase your pool time with constant pool temperatures, year round
Heat pump technology will minimise running costs & optimise efficiencies
Superior efficiencies & WIFI compatibility (control your pool heating from wherever your day takes you)
Effective in low temperatures, efficient in moderate temperatures
High grade production and engineering means extended life spans & less maintenance
Supported by ongoing development and innovation (international growthindustry)
Safe (no combustion)
Source of renewable energy
Convenient easy installation (uses existing connections)
To match the perfect pool heating unit with your pool, complete Madimack's online Pool Heating Calculator and receive a personalised pool heating evaluation emailed today. We can help you with your final selection and have your pool heated in no time.
Latest Product News
"Madimack's Elite V3 represents new engineering in the pool heating space. It is the quiestest, most efficient and well supported pool heat pump in the Australian market. Watch this video for more details."
"Madimack's latest energy saver is the Inverter Plus. It turns a single speed pool pump into a variable speed pool pump adding up to 80% efficiency to your system"